Two weeks ago, we announced a huge product update at Usersnap. Besides having the all new dashboard, we've also reimagined our Chrome extension.
We've rebuilt the Chrome extension from the ground.
Here's how to be more productive while collecting website feedback & reporting bugs with our new Chrome extension and why you should definitely check it out.

The Medium is the message: Collect bugs where they appear.
No matter if we're designing, developing or simply managing, many of those tasks take place in the browser. That's why we think feedback and bugs must and should be collected & reported where they appear.
Most of your users are using Google's Chrome as their preferred choice. And for many people, the chrome extension is the most simple and easiest way to get started.
How to set up the chrome extension for tracking bugs & collecting feedback.
Whether you already have the Usersnap Chrome extension installed or not. The set-up process is simple and quick.
Go to the Chrome web store.
Add the Usersnap extension to your Chrome browser.
Login to your Usersnap account or sign up for a new account.
You're done.
Prefer a video? We got you covered. Here's a little video on how to set up the new Chrome extension:
What's new? Capturing screenshots the easy way.
When starting out with collecting feedback and trackings bugs, you don't have that many projects. But when working with larger teams or external clients, you can end up using different Usersnap projects.
Therefore, we wanted to make sure that we covered both use cases. If you're creating screenshots and tracking bugs for the same project day in, day out, I recommend you to activate "always use this project".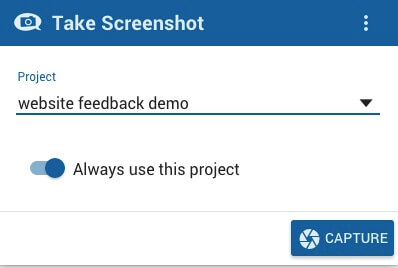 If you're capturing screens and bugs for various clients & projects, I'd recommend to leave that setting deactivated.
This way, every time you capture a new screen, you can decide in which project it should be stored.
More projects – more options.
When capturing screenshots or tracking bugs, you'll surely end up using the Chrome extension quite a lot because it's the most comfortable way to get your work done.
This is why we saw the need to bring further options and settings to your Chrome extension by making it easy to connect your Usersnap account and switch between projects, as well as adding many more cool things.
Simply right-click the extension icon in your browser and choose Options.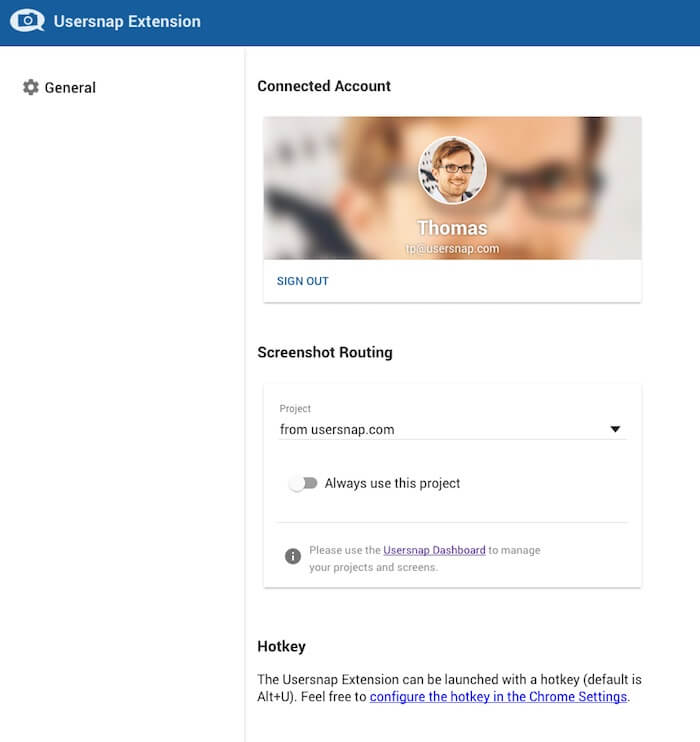 Create & discuss.
The Usersnap Chrome extension is the easiest way to report a bug or collect feedback on a new website prototype.
It literally took me 10 seconds to report this bug with the new Chrome extension.
But it doesn't stop there. With the new Chrome extension you can easily switch back to your Usersnap dashboard. And with the new Personal Lists you're able to manage all your bug tracking & feedback efforts in one place.
Be even faster with shortcuts.
Did you know that you can create shortcuts for your Chrome extensions? Here's how.
Simply go to chrome://extensions/configureCommands and you'll find the keyboard shortcut section for all your installed extensions.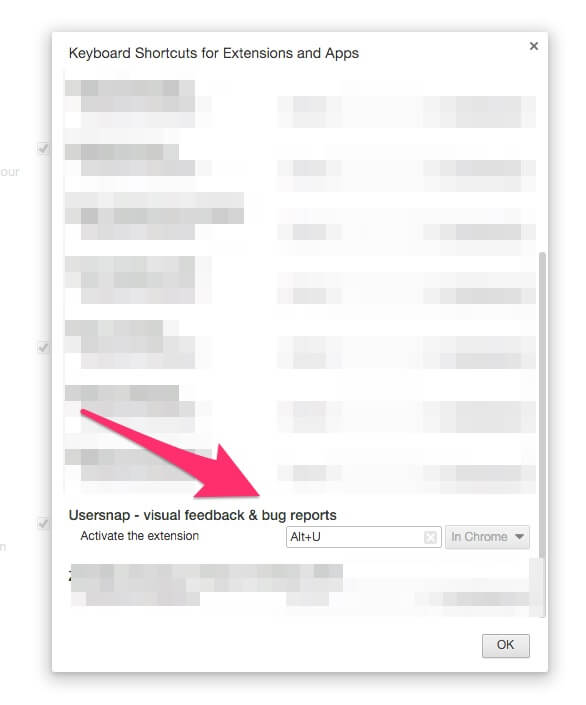 Wrapping it up.
Working with Chrome offers access to an immense repository of tools which make our daily tasks less of a chore. With the new Usersnap Chrome extension, you'll find an easy and comfortable way to capture browser screenshots and report bugs.
Let us know in the comments what you think about the new Chrome extension!
Enjoyed the blog post? Make sure to give it a tweet!
Building a new Chrome extension for capturing screens & bug reports! http://t.co/4giU57Kb5p #chrome #browsers pic.twitter.com/qhjfnXywJB

— Usersnap (@usersnap) October 6, 2015