It doesn't matter whether you're using Facebook's messenger, Whatsapp, or Telegram for your private communication or Slack, ChatGrape and Hipchat for business communications, messengers are here to stay.
And that's a great thing.
Slack has become widely known as the "email killer" for businesses. But all these messengers are not just changing the way we write emails. They are also fundamentally changing business communication. They are changing the way we track bugs.

Messengers are here to stay.
Just recently, I stumbled upon this blog post on "Why messengers will be the future of UX" by David from orat.io. David showed that the majority of installed apps (68%) on smartphones are in the field of social & communication.
This is a lot.
Or as David further states:
Messaging is a standard communication habit of our society
FOMO – the fear of missing out.
What do messengers have to do with bug tracking, you might ask. Actually, quite a lot.
Messengers are not only changing the way we communicate in our private lives. They are also changing the way we communicate with colleagues and clients.

I guess we can agree here that expectation of response times has dramatically changed over the last few years.
With the increasing usage of messengers, the fear of missing out has become a widely known phenomenon in business.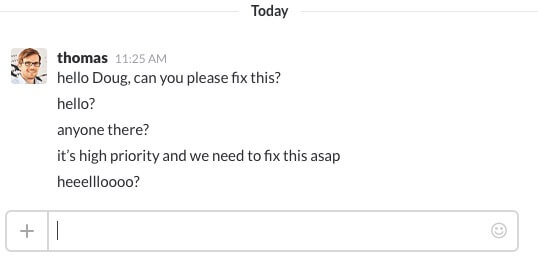 Some people even argue that the stickiness of Slack is a result of the fear of missing out. It's the chaos of a slack chat itself which always keeps us online.
Real-time bug tracking or the fear of missing bugs
When it comes to bug tracking, it always seemed that the fear of missing out isn't something which a lot of people encounter.
But times have changed, and with it, the the way we track bugs.
Bug reporting has somehow become a visual and emotional experience. It's not only about the written information on certain issues or change requests anymore.
Highlighting bugs and making them reproducible is now also about expressing feelings. Emojis, screenshots and other visual elements help us to express and communicate those feelings, emotions and circumstances within bug reports.
Do you know that emojis are already widely used in bug reports? Check out this case study on emojis in bug reports.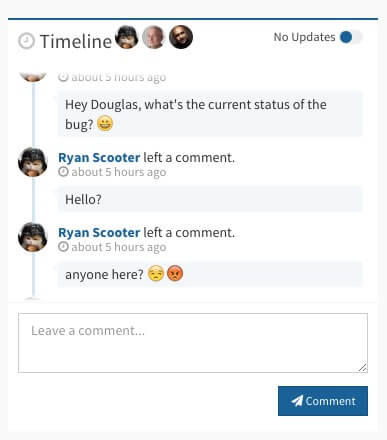 So when it comes to real-time bug tracking, there are some things to take into account when getting started with your bug tracking process.
Keep everyone on the same page
This sounds easy, right? But this is one thing that always needs to be clarified.
When getting started with your bug tracking efforts, one of the first questions that will come up is:
Should I provide my clients access to the bug tracking tool?
Trust me, that's a tough question to answer. The consequences of the path you choose will be immense.
Letting your customer into your bug tracking tool will impact the way you and your developers communicate.

So there's scenario 1: client can report bugs (via email, form, widget, etc.) but he/she has no access to the bug reporting tool.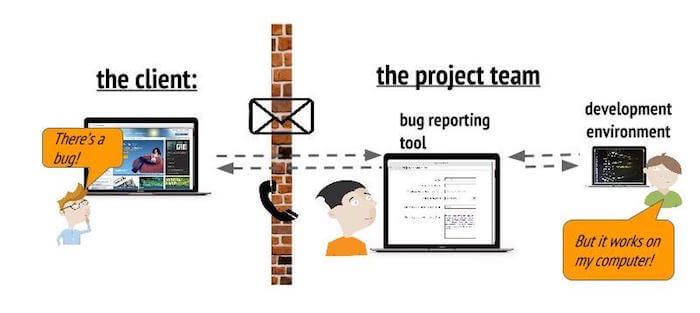 So what are the pro's and con's here?
The client can report bugs, but can't access further information on the status quo of each and every bug on the fly. He/she has to ask the project lead regarding the the current state of certain bugs.
In terms of communication, this probably leads to a bottleneck situation where the project manager / bug tracking lead has to deal with a lot of inquiries from customers regarding bug statuses.
The advantage of not letting your customer inside your bug reporting tool is the ability to allocate resources more effectively. Imagine having clients talking and communicating with your lead developers and constantly pressuring them to fix "high priority" bugs.
As a project manager, allocating resources might become difficult and tricky when constant communication between developers and clients take place.
The main question to ask yourself when considering this scenario is: How do you make sure that you keep your customers up-to-date? Are you sending out any email updates?
Then there's the second scenario.
scenario 2: clients can report bugs + have access to your bug reporting tool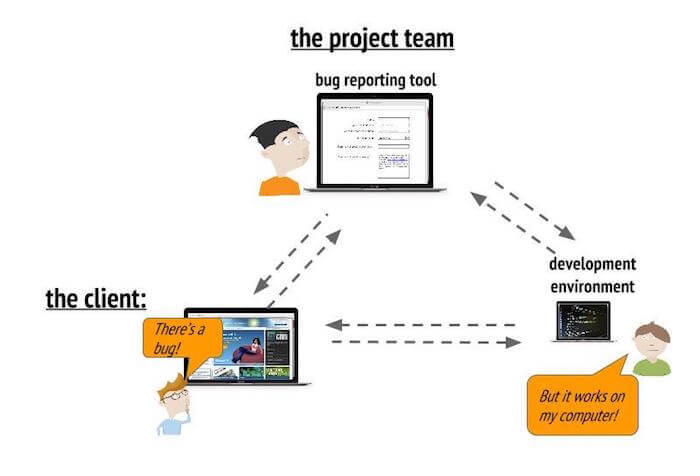 There's one big advantage in providing your clients access to your bug tracking tool. And it's called more flexible and faster interactions and feedback cycles.
With fast interactions between everyone involved in the bug tracking process, you can make sure that important bugs get fixed faster while everyone is up-to-date.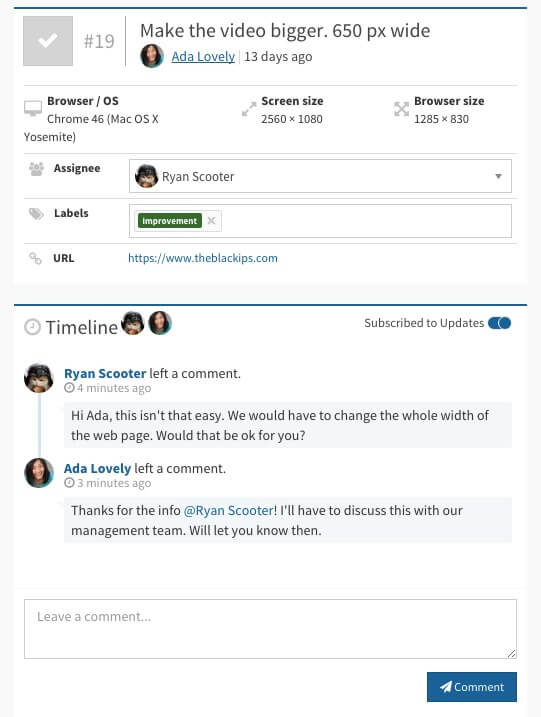 Whichever scenario you choose, it's all about making sure that your bug tracking workflow is as transparent as possible. There's no benefit in leaving clients or colleagues in the dark.
Manage expectations
Managing your customer's expectations, as far as business is concerned, is the most important aspect to maintain a healthy relationship with your customer.
Keeping a positive relationship with your customers will lead to a calmer work environment and a higher level of productivity. The following aspects can help manage your client's expectations when it comes to tracking bugs:
Be honest & transparent about bugs: When bugs occur, don't try to hide them. Your client will find them anyway, so better make sure to communicate problems or errors early on.
Constant communication: I don't want to say that you need to be available 24/7 for your clients. No you don't. But It does mean that you must establish a constant communication feed between you (your project team) and your client. Keeping your customers in the dark can be fatal when it comes to tracking bugs.
Get to know your customers: If you truly show some interest for your customers, their problems & the challenges they are currently facing then you are one step ahead. Tracking bugs, which mostly means talking about problems and errors, is way easier if you know the person on the other side of the table.
Wrapping it up.
Messengers are changing the way we communicate and collaborate inside project teams and companies. These changes also affect the way we collaborate on bug tracking projects.
Especially when it comes to client's projects, the fear of missing bugs is ever-growing. Particularly, when giving your customers access to your bug tracking tool, you better be prepared for shorter and faster feedback cycles.
All in all, clear and transparent communication is key, whatever messenger you're using or which bug you're tracking down.
This article was brought to you by Usersnap – a visual bug tracking tool for web developers & designers. Used by software companies like Google, Facebook, and Microsoft.