Haydee is a customer success manager at Usersnap. Haydee joined the team more than a year ago, and ever since her positivity is beloved by her colleagues and customers.
This week I had the chance to sit down with her and talk about her life at Usersnap, the differences between the Philippines and Austria, and the latest customer stories.
Meet the team and community is a series of introducing our team and Usersnap community. You'll get unseen insights in the life of Usersnapians and discover new glimpses on the latest technologies.
Haydee, what does a typical day at Usersnap look like?
I like to kick off the day by scanning my emails and looking at my calendar to see what needs to be done for the day.
I am a bit old-school, so I like to write down my tasks with little check boxes. This gives me an idea of how my day is going to look like and gets me in the mood for the rest of the day.
If we have some customer-related issues that need special attention, I will usually discuss it with the Usersnap customer success team or with our development team to find the best solution for the problem at hand.
My work also includes some administrative and accounting responsibilities involving our supplier and customer accounts. So you will occasionally see me using my trusty calculator or having discussions with our CEO or CPO throughout the day.
You moved to Austria a while ago. What are the most interesting (or challenging) differences between Austria and the Philippines?
I can say it's been a good five years of living in Austria so far. I am very thankful for the people I've met and friends I've made over these last few years.
Food, language, and weather. My interests and challenges about living in Austria can be summed up with these three words.
I like Leberkäse and love anything Pommes but I will pull my hair out if I go three days without Asian food.
Sad to say, I am still not able to speak fluent German but I am working on it! It is hard to master a new language, especially since it is already my fourth language.
I love autumn and spring in Austria. I like the romance and beauty of a snowfall but mostly, winter weather makes me want to get on that next flight to the Philippines to get some of that sun.
If only I can have the best of both worlds then I will be the luckiest person in the room.
What interesting/fun/entertaining fact should our readers know about the Philippines?
In the Philippines, we have an island within a lake on an island within a lake on an island. And it's a volcano. Taal Volcano.
What was your motivation for joining Usersnap?
When I read the job ad for Usersnap, it made me laugh.
Not smile, not grin, but laugh. It wasn't the job description. It was the person or persons behind writing those words. I knew there was something about this company.
I immediately emailed Flo (our CEO) and the whole time I was writing that email, I had a smile on my face.
With some luck, I got an interview. That interview was followed by a day spent getting to know the company, the product, and the team. I liked them all.
Although I consider myself quite the pragmatic one, I just couldn't help being infected with the excitement and enthusiasm of this team.
Most importantly, I loved the idea of being part of a growing team and actually witnessing and knowing that what you do has a direct effect on the company's growth and development.
Why should others join the Usersnap team?
We are a team of truly talented and hardworking people who respect and believe in each other while having fun building cool products that make a difference. To put it simply, we are awesome and we rock!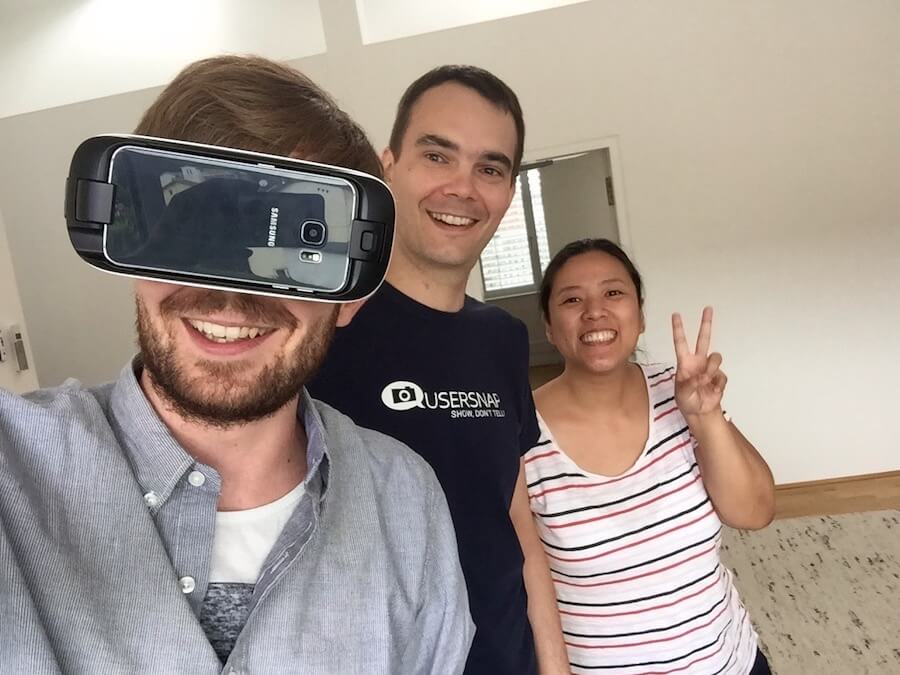 You're well known in the office for being a football fan. What fascinates you about Messi and your favorite club?
I've never watched a single minute of football before I moved to Europe. My husband made me watch the Euro 2012 with him and I was B-O-R-E-D to death.
I never watched a match again until the 2014 World Cup where I saw Messi play for Argentina and then later on for FC Barcelona. I just thought, now THAT is football. I've been a Messi and FC Barcelona fan ever since.
And, Messi is life. Now if only I can convince our team to have our next annual company team building trip in Barcelona during football season….
And last but not least…
Your favorite emoji? Hilariously laughing emoji ?
The best thing about working in customer success? Because my work is not limited to one aspect or department, I have interaction with people from inside and outside of the company. It keeps me busy and interested.
Summer in the Philippines or Winter in Austria? That's a hard choice to make. I will say winter in Austria but nothing below -5 degrees Celsius or summer in the Philippines with round the clock air-conditioning. I know that doesn't make sense but one can hope and I will take either gladly. ?
Your favorite Austrian word? Genau. Doch, doch also comes to mind, but that's technically an expression, right? Wait, is that German German or Austrian German? See? German is difficult!
Meet the team and community is a series of introducing our team. You'll get unseen insights in the life of Usersnapians and discover new glimpses on the latest technologies. PS: We do have some open vacancies. Go check them out and find yourself in the meet the team section ?