It all started a few weeks ago when we were having our Friday online standup.
Our Perg team opened a couple of beers to celebrate a really hard week. During this meeting the idea came up – why don't we create an event where people like us – startupers, can grab a beer (or juice) and share some moments from their week – ideas, troubles, little victories or just get in touch with fellow colleagues.
This is how StartupBeer was born.
We even got this nice domain name!
We've created a simple website to be a starting point for everyone interested in growing and having fun – one hour per week: startupbeer.me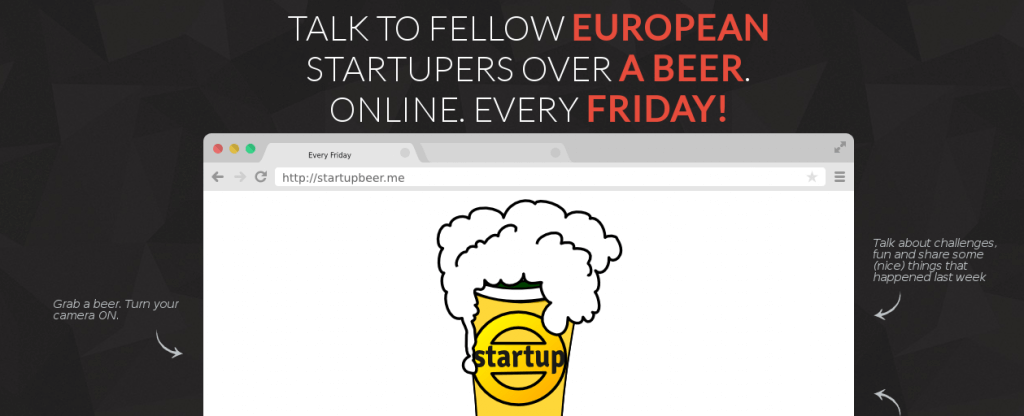 What's in it for you?
Well, we've said it before, but here it is in a bullet-point format:
 Meet fellow startupers from Europe without leaving your office/co-working space or accelerator.
 Connect with really interesting people online – every week.
 Share your success, share your stories, share your failures, get help and advices.
 From time to time even learn something new from our special guests.
 Have fun
Who can attend?
Any startuper who is OK with the timezone. It's 04:00pm (CEST) and with the following rules:
Beer is not mandatory
Be nice!
No ads!
No salesy stuff!
Speak in English!
Have fun!
It's an open space – do not expect a schedule or program.
How can I attend?
It's free and it's every week – learn more by visiting the fancy url of ours – startupbeer.me
Please share this article and the url with fellow startupers. Let's make a crowd:
This article was brought to you by Usersnap – a visual bug tracking and screenshot tool for every web project.