The last months were spent by the Usersnap team on building an all new Usersnap Dashboard with so-called Personal Lists which are announced today.
We're super proud what the whole team achieved and like to show you some insights on building it.
The new Personal Lists will not only help you to be faster in your daily work with Usersnap. It's the most personal Usersnap product update, ever.
With personal lists, bulk actions, an optimized search and many more improvements, we re-build the dashboard, making it easier for you to get more out of it.
Check out how to activate the new Usersnap dashboard and how to create personal lists.
How to use personal lists?
With personal lists, we want to give power to our users and enable them to do incredible things with our project dashboard.
So let's get started.
Here are some use cases and workflows which will help you to become faster and more efficient while collecting feedback and managing bugs.
Other than that you may come up with other creative use cases as well.
Open & closed isn't enough.
The basic dashboard consists of two statuses. Open & closed screens.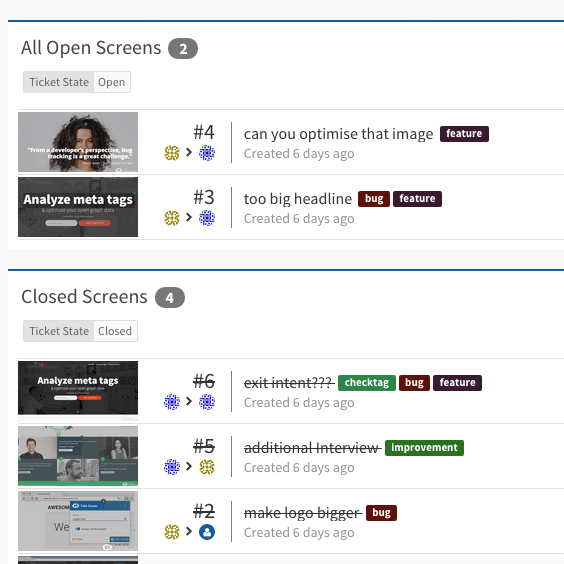 When talking with our users and customers, we saw that there's an increasing need for further options to modify and work with those statuses.
Therefore we came up with the idea of Personal Lists, which enables you to modify your dashboard to your personal need.
How to create a personal list.
First things first. Here's how to create a new personal list.
Login to your Usersnap account – or sign up for a free trial. Open one of your active projects.
On the first glimpse you won't see that much of a difference, though we added some buttons making it possible to modify your dashboard.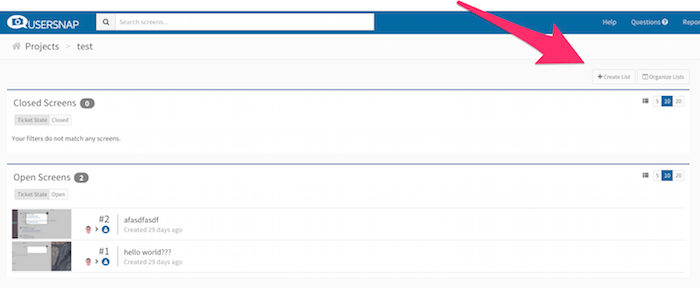 When creating a new list, there's no limitation in filters and search queries. This means you can create a list for basically every full text search or label.
Personal lists: bugs, feature requests, open, closed.
When getting started with Personal Lists you might be wondering which personal lists to create. Depending on your projects the following lists might come in useful:
A bug list: A list containing all screens with the label bugs. This makes it easy to get an overview of all open bugs.
A feature request list: A list containing all screens with the label feature.
A "my screens" list: A list containing all screens assigned to you
A Reporter lists: A list containing all screens created by a certain team member
An unassigned list: you can add an extra list for all "unassigned screens" created by your customers and testers. This makes it easy to get an overview of unassigned tasks and enables you to assign them to one of your developers in charge.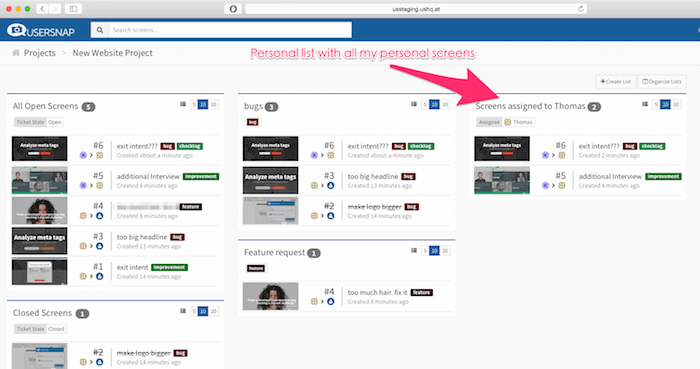 It's up to you and your creativity. All lists will remain personal and private. This mean that they are only visible and editable to you.
How to organize your personal lists?
Organizing your personal lists is easy.
When clicking "organize lists" you remove lists or re-arrange them with drag & drop.

How to use Bulk actions.
We also added some further editing options to your Usersnap dashboard.
open & close.
It's now possible to close multiple screens at once.
Other than that you can also add or remove labels, re-open multiple screens.
Re-send to integration.
If you're using Usersnap in combination with another tool or integration, you probably like this one. You can now re-send certain screens to your connected tool.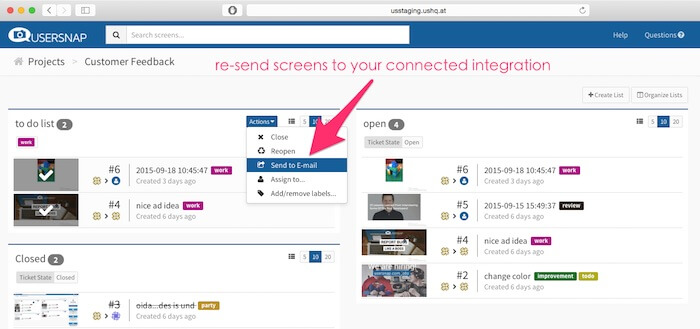 Updated Search
As you may notice, when logging in to your Usersnap account, you'll see an updated dashboard search. When we introduced the dashboard search it has been an incredible enhancement to our Usersnap dashboard. Since then many people used the search in order to find and organize their projects.
With the updated search we brought it to next level, making your search experience even better.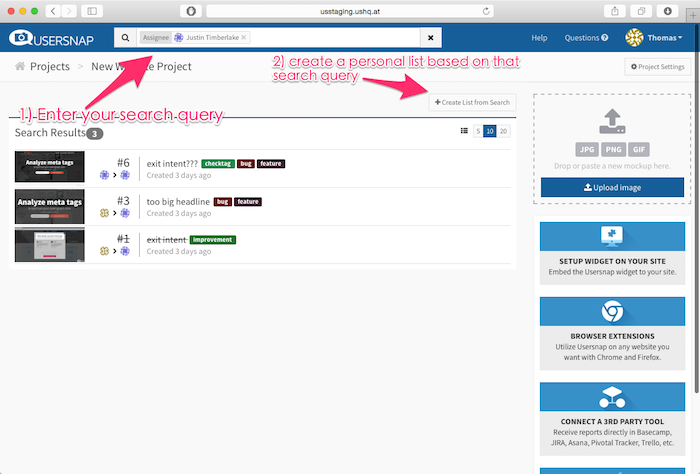 Wrapping it up.
With the all new product update, your dashboard has become way more personal & faster. We're super-excited to have you on board of Usersnap bringing you the next level of bug tracking to your office.
Any problems getting started? Just drop us an email to help@usersnap.com and we'll help you to get started with your personal lists.
Now it's up to you. Let us know in the comments what you think about the all new personal lists?
This article was brought to you by Usersnap – a visual bug tracking and screenshot tool for every web project.