Usersnap is great for bug tracking. And that's the core feature of our Usersnap widget. However there's a time when ideas are brought to paper and web teams discuss about mockups and first scribbles. We know that, because a lot of users tell us about their web development and web design workflows.
Unfortunately the coordination of mockups and designs drafts take place via phone or email in a great number of times. But here's the good news: Create mockups and collect visual feedback on wireframes with the existing tools you are already using. Here's how it works.
Scribbles, wireframes or mockups – no matter how you call them – they are one of the first things during the conception and design process. Bringing your ideas to life means showing customers how your solution "can look like".
1.Collect Ideas on Paper
Although most of us are pretty affine to digital media, we love taking notes and scribbles on real paper. And that's OK. There are great solutions out there for saving these notes. Evernote for example offers you an easy possibility to save your ideas in your digital notepad.
2.Create Scribbles & Mockups with moqups & Axure
After having clarified the first aims and ideas, you or your designers start to think about possible prototypes and scribbles. It not any easy task to bring static ideas/layouts (you collected first) to real life and complete them with rich media.
In order to make great websites most of us take advantage of mockup tools to create, analyse and discuss layouts, designs and features. Making use of these tools is definitely a wise move – especially since it will help you to focus on the real aim of your website.
We recommend using moqups.com, since it's a great mockup and wireframe tool that helps you to get the most out of designing your layout. And it comes with a free plan too! 😉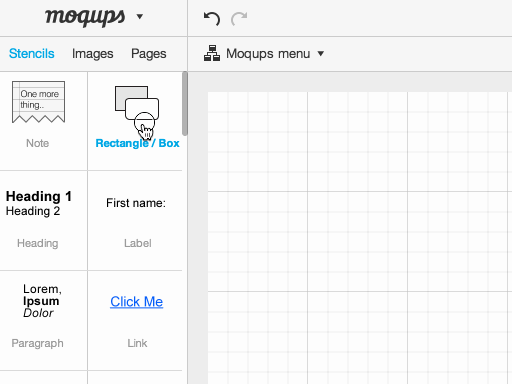 Axure RP is another popular prototyping and wireframe software. In contrast to moqups.com – which is a web based tool – Axure RP needs to be installed locally on your PC. It's mainly used by web designers and project managers to present their wireframes to clients and colleagues and it turns designs into working HTML and javascript that allows you to interact with your mockups in your browser.
And the great thing is: You can install the Usersnap feedback widget for giving feedback on mockups in Axure. Here's how it works.
1. Step: Select the project where you'd like to get feedback on:

2. Step: You can add Usersnap as a new Plugin to your project:

3. Step: Add the Usersnap widget code to the site: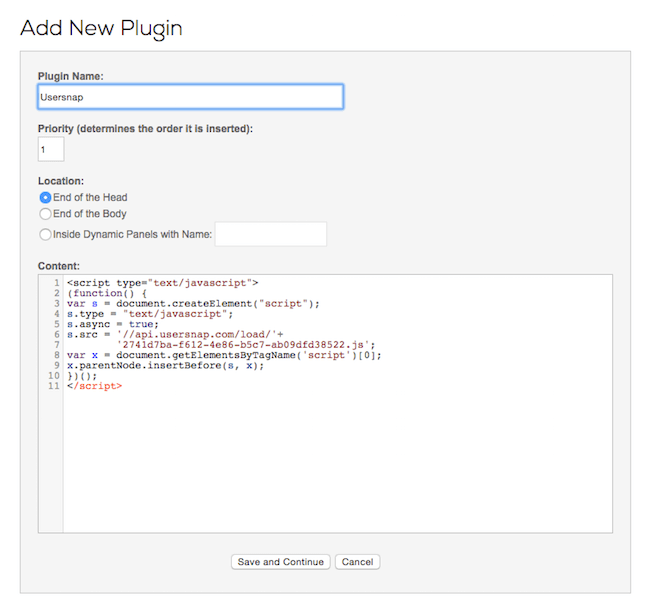 Simply select the pages which you'd like to add Usersnap to. We recommend choosing all pages to ensure that co-workers can add feedback on all your pages.
If you looking for other great and free wireframe tools, I'd like you to take a look at the following applications:
3.Upload Mockups to Usersnap
What's your next step after creating the mockups with the tool of your choice? Right, you probably send out a link via email to you co-workers asking for feedback.
Well, we've been there too. Until we created Usersnap.
Usersnap is great for discussing mockups and design drafts. By uploading your mockups and design drafts to Usersnap you can discuss design drafts faster and find the perfect design draft together – without endless email threads.
Simply drag your local file to the Usersnap dashboard and it will be uploaded to Usersnap: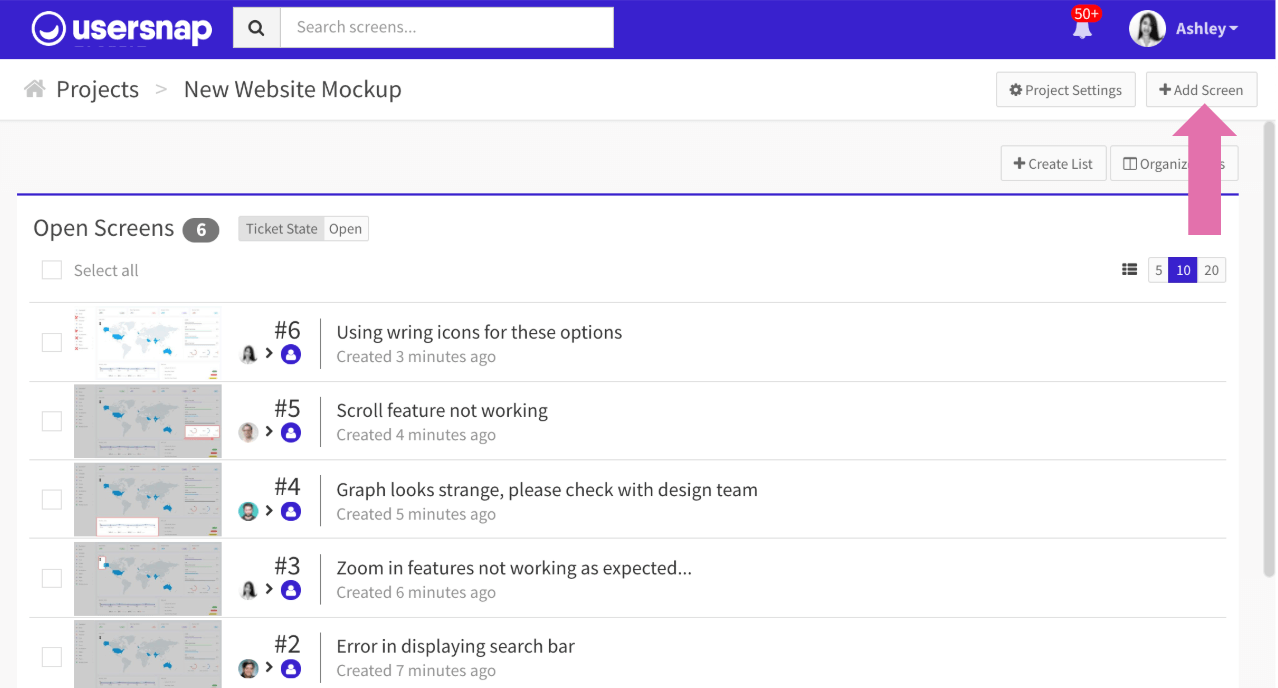 After you've uploaded the screen to the Usersnap dashboard directly or with the Chrome or Firefox extension you can invite your co-workers to start discussing your mockups.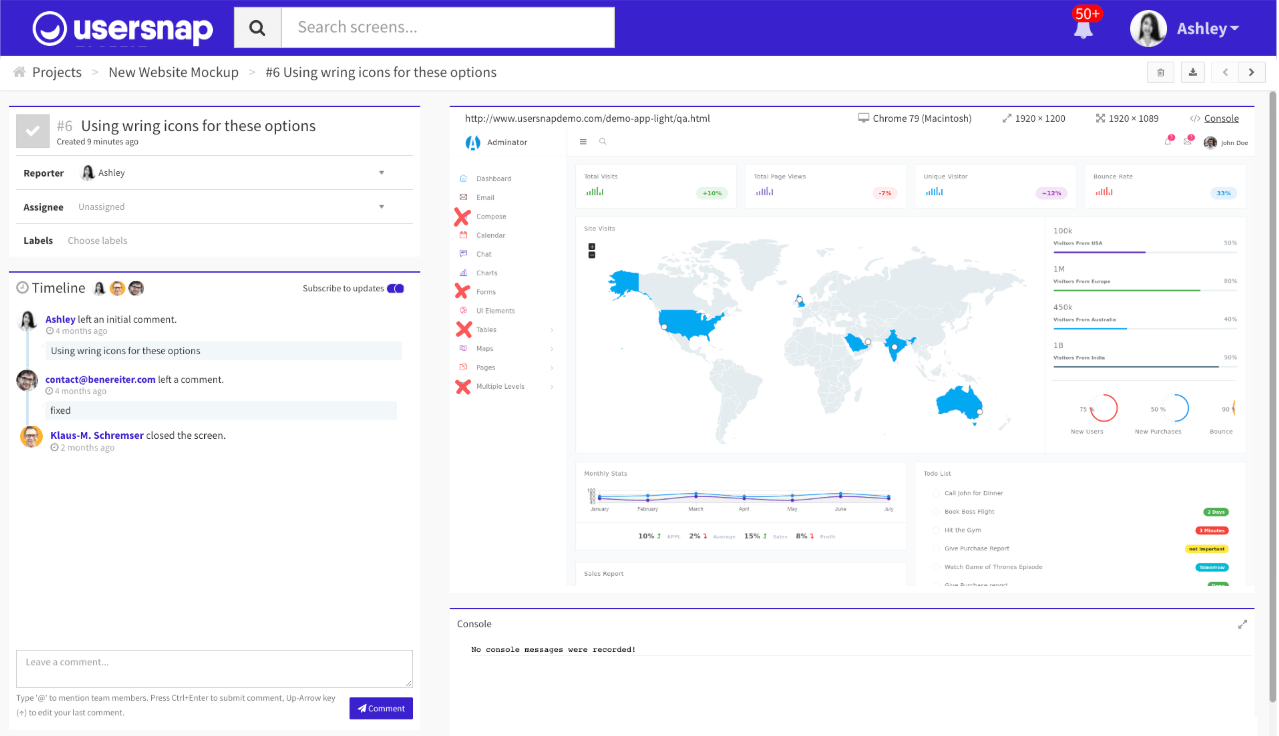 The Usersnap dashboard allows you to ask your co-workers if something needs to be clarified. Get the needed information directly at one place. And the great thing, after you concluded on one final design draft, you can use the existing tools for your web development process and QA testing as well.
This article was brought to you by Usersnap – a visual bug tracking and screenshot tool for every web project. Get unlimited feedback starting at $9/month. Free trial run available.