On September 7th, 2016, Divi 3.0, as a new way to build WordPress websites, was released.
Divi 3.0 not only brings WYSIWYG-style editing to WordPress but it also makes building WordPress websites way easier. Doesn't matter if you're a WordPress developer or a complete newbie, you should definitely consider Divi 3.0.
Everything new with Divi 3.0
The people of Elegant Themes are known for their beautifully crafted WordPress themes and plugins. But with Divi 3.0 they exceeded all expectations on WordPress plugins and themes.
Divi 3.0 is more than just a WordPress theme. It's a visual builder for creating new WordPress websites.
I know that Divi or any other WordPress template is not replacing a web designer's work. Actually, I even believe that such templates will help web designers build even better websites.
And that's why we decided to take a closer look at Divi 3.0 and see what it actually can do.
WYSIWYG vs visual building
The concept of building a website with a so-called What-you-see-is-what-you-get Editors (WYSIWYG) is nothing new. It's been around since the early days of the internet. It never really went mainstream as there was always some limitations (especially for professional use).
Divi 3.0 goes in the similar direction. It doesn't call itself WYSIWYG and prefers to be called a "visual page builder", however the concept remains the same:
The great thing about Divi 3.0 can be found in its various content elements. Whether you would like to set up a blog or a pricing page, the Divi 3.0 theme contains various options for a lot of use cases.
How to set up Divi 3.0
So, let's take a closer look. In order to get started with Divi 3.0, you need two things:
The Divi builder plugin
The Divi theme (or any other theme that is supported by the Divi builder)
The Divi theme can be installed like any other WordPress theme. I assume you've setup your WordPress site and are quite familiar with the WordPress basics.
The Divi builder
After installing the Divi builder, a number of new menu items will be added to your WordPress dashboard and sidebar.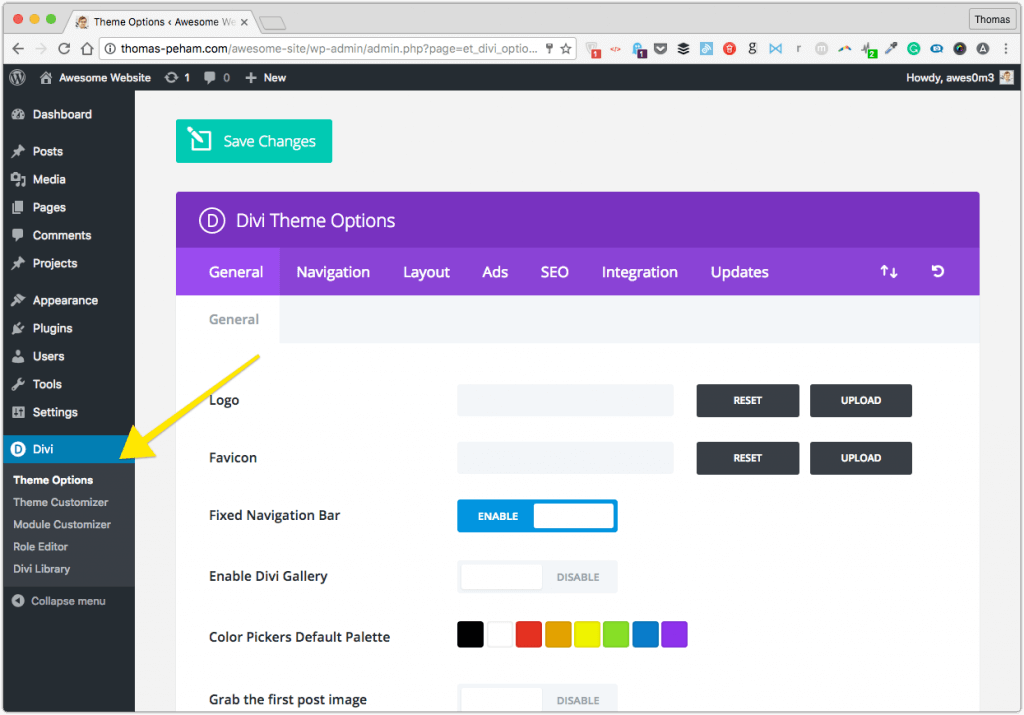 The Divi builder offers you two options when creating new pages. The so-called "back-end builder" and the "front-end visual builder". The only difference is the interface. The visual builder is the core of the new Divi 3.0 which allows you to build your pages on the front-end of your website!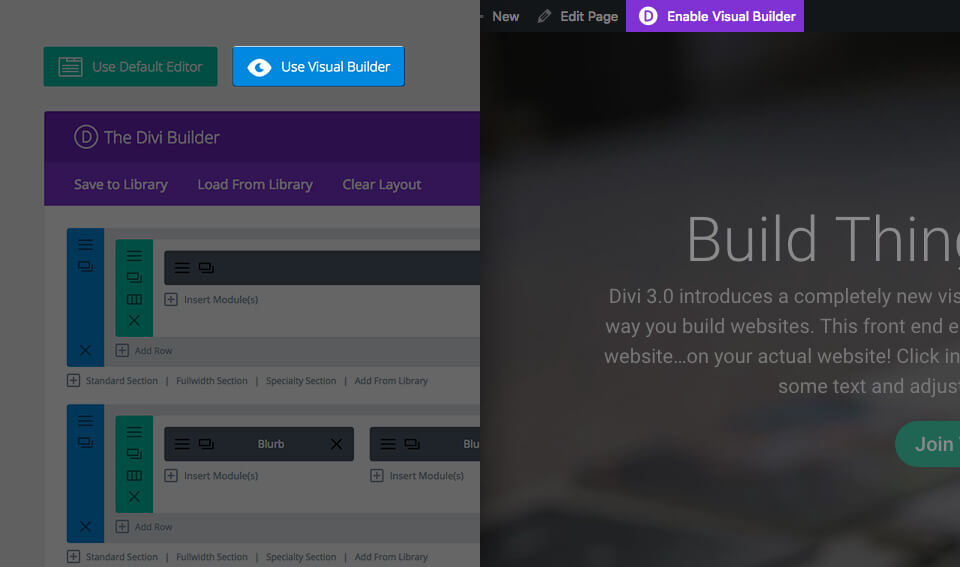 As you get started, you might wonder about at the various elements offered by the Divi builder.
The Divi builder uses three different building elements to help you build your website. These are the following:
Sections are the largest building elements, which allow you to add rows to your site. A module (like a text or image) can then be added to every row.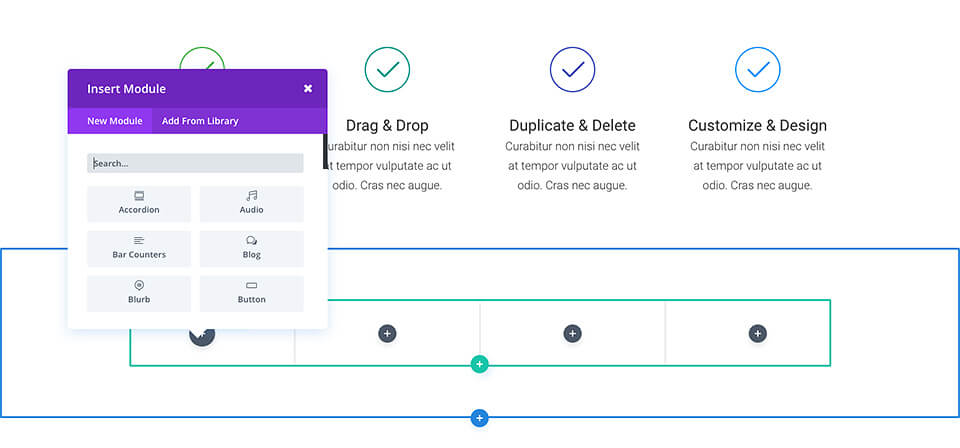 When working with the visual builder, you'll quickly understand the concept of these elements. In the first place, you'll need to create a new section. Afterward you'll decide on the number of rows, and the type of modules you'd like to place in each of these rows.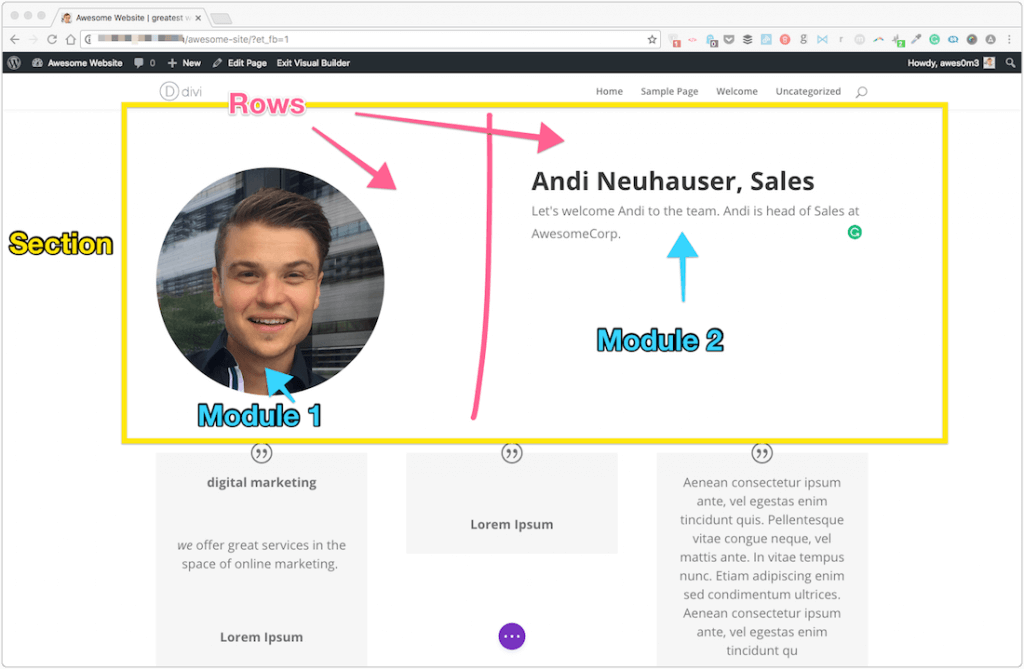 If you want to learn more on how to get started with the Divi builder, I recommend you check out this video.
Divi 3.0 is great for most WordPress sites
Divi 3.0 is great as it enables people who already use WordPress to build faster and better WordPress pages. At least that's true for the average user.
The reason why Divi 3.0 is great can be summarized by the following factors.
Responsive support
Similar to other WordPress themes, Divi fully supports responsive layouts. Each module is designed and tested for mobile devices. And with the easy-to-use builder you can switch between different responsive views in real-time.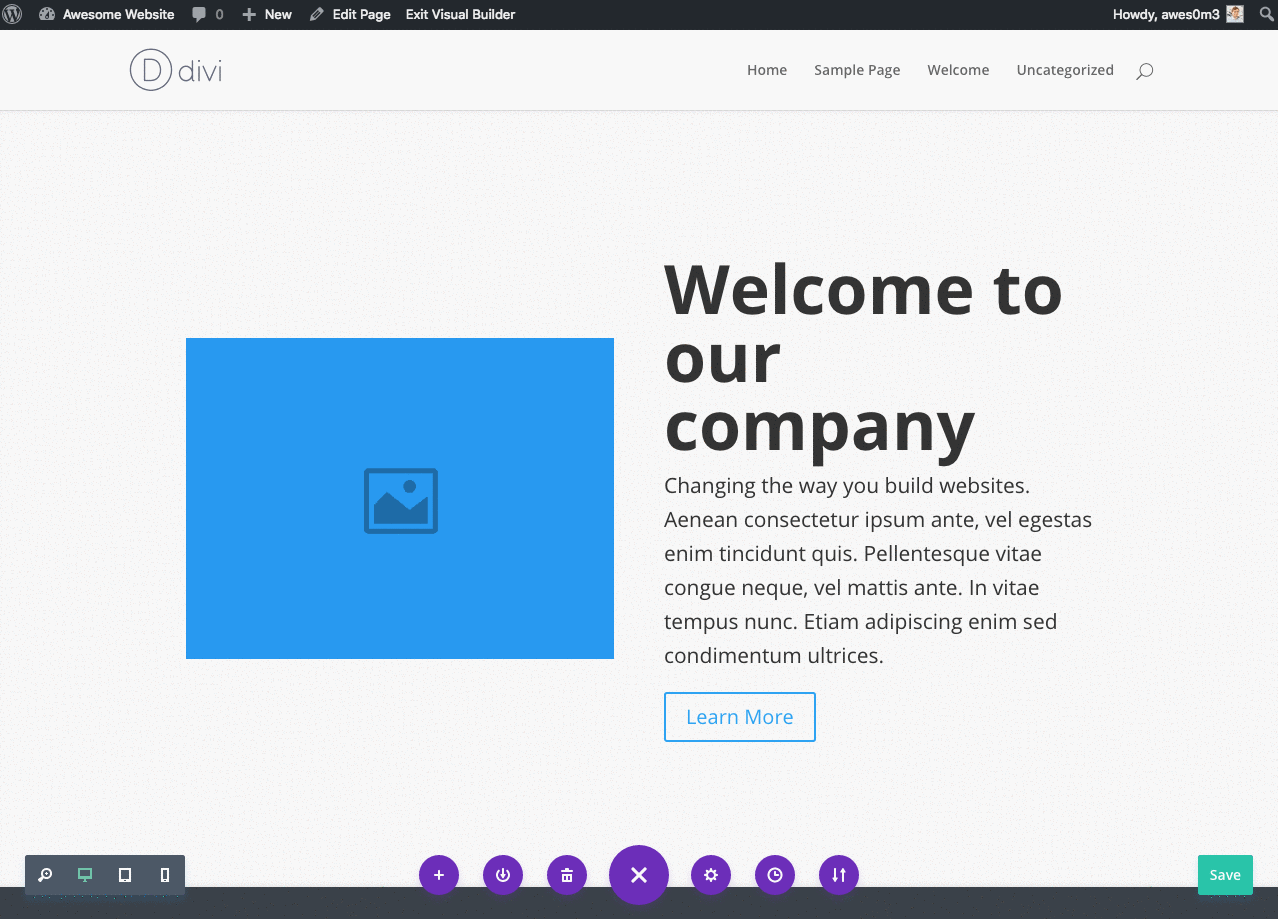 Easy setup & customization
The Divi builder allows you to easily setup a new WordPress site. I guess it can be said that no development skills are needed in order to have a good looking, modern website up and running in basically no time.
Any content element can be customized in real-time via the visual builder. You can customize fonts, text, column structure, background, and many more things.
Comprehensive elements & features
One of the reasons why people use Divi is because of its many features. The Divi builder offers you various content elements in a fast and easy way. And compared to most visual editors out there, it's fast and slick.
Fast front-end editing
Divi 3.0 feels a lot faster than most WYSIWYG editors. The reason for that can be found in the technology behind Divi. Divi 3.0 is built with React and Flux.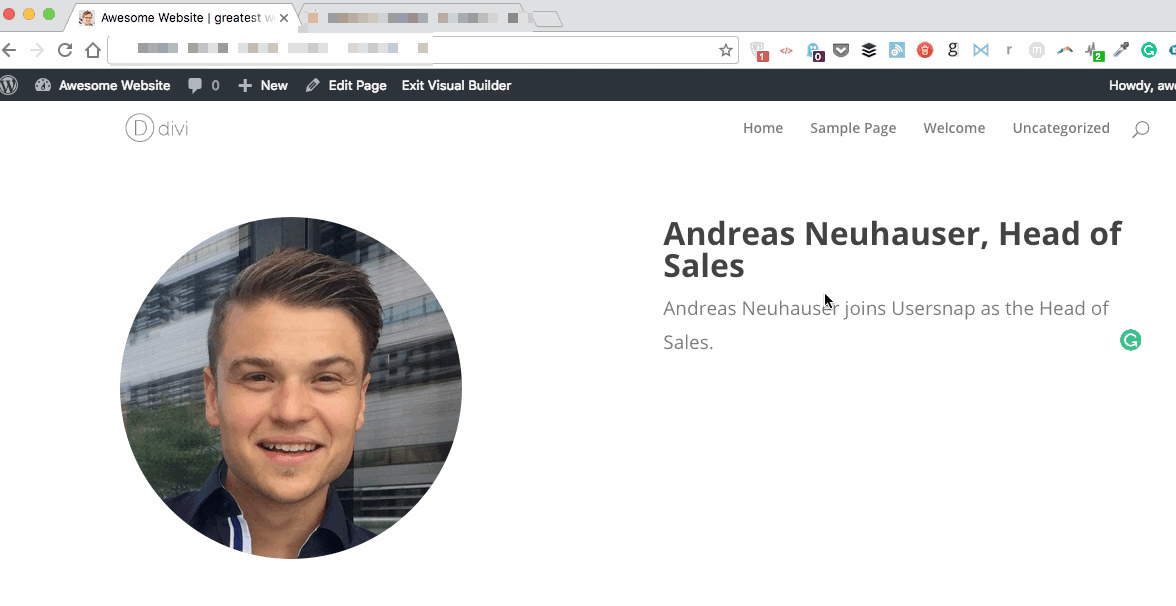 Drawbacks and limitations when using Divi 3.0
In our first tests, the Divi builder in combination with the Divi seems pretty promising.
There's been might be a couple of limitations you'll face.
Not fully customizable
If you're a web designer who wants to fully customize every single element and its behaviour, you might be better of developing your own template, since you'd end up figuring out how to modify and fully customize certain modules and elements inside the Divi theme.
Theme support
At its current state, the Divi builder is not supported by many other templates. In fact, the Divi template is the only theme that fully supports the new Divi builder right now.
The great thing though, is that Divi comes with over 20 pre-made layouts right out of the box. These layouts can already be used to jump-start any new web page.
What about performance?
When using existing WordPress templates, you might run into the question of how much that template is optimized for performance. Divi from Elegant Themes has a good reputation for fast websites. However, you should consider two things:
There seems to be a known issue with caching plugins. According to other Divi reviews, there are conflicts popping up in combination with W3 Total Cache or Super Cache.
If speed and SEO is your highest priority, you're probably better off using a WordPress template which is 100% designed for speed.
Summary
Overall, it is fair to say that Divi 3.0 is one of the most promising attempts to bring front-end editing back to WordPress. And it is definitely the fastest visual editor I've seen so far.
As we continue using Divi 3.0, we'll probably end up running into further limitations. Up till now, it's hard to identify drawbacks and limitations, because it is just a sophisticated, beautifully-designed product.