Heroku is among the best cloud application platforms on the web and lets app developers spend their time on their application code, not managing servers, deployment, ongoing operations, or scaling. It allows for agile deployment for Ruby, Node.js, Clojure, Java, Python, and Scala – up and running in minutes. Of course, a full git support is included. No hassling around with servers, instances, or VMs again.
Plus, Heroku is not only a cloud platform but maintains and curates an avid ecosystem of Add-Ons. Usersnap was recently added to this Add-on ecosystem: Usersnap add-on for Heroku. Rather than using Usersnap as a separate service to make your life as a developer a whole lot easier you can now simply add it as Heroku Add-on. You will get screenshots during your development process to fix bugs faster and have more time working on new features!
Adding the Usersnap add-on for Heroku
It's easy to attach Usersnap to a Heroku application via the command line interface:
$ heroku addons:add usersnap
There are some additional, optional parameters to be passed in when adding:
$ heroku addons:add usersnap \
    [--targeturls=http://your-website.com,http://your-website-alias.com] \
    [--targetmails=contact@your-mail.com,user1@your-mail.com] \
    [--senderemail=noreply@usersnap.com] \
    [--subject="[Usersnap] New Usersnap feedback"]
targeturls (comma-separated, optional – default: configured domains for heroku app): Specify the list of URLs which you intend to use Usersnap.
targetmails (comma-separated, optional – default: heroku account owner email): You can add one or more email addresses as recipients for Usersnap screenshots:
$ heroku addons:add usersnap --targetmails=support@mydomain.com,usercare@mydomain.com
senderemail (optional – default: "noreply@usersnap.com"): If you plan to deliver Usersnap reports to a ticketing system via email, you can change the sender address to your needs:
$ heroku addons:add usersnap --senderemail=fromusersnap@mydomain.com
subject (optional – default: "[Usersnap] New Usersnap feedback"): Particularly useful if you want to create an email filter to organize your screenshots.
Once Usersnap has been added, a USERSNAP_APIKEY setting will be available in the app configuration. This will contain the API key to be used in the Usersnap snippet. This can be confirmed using the heroku config:get command:
$ heroku config:get USERSNAP_APIKEY
YOUR-API-KEY-HERE
After installing Usersnap, the application should be configured to fully integrate with the add-on. Usersnap only works for publicly available (e.g. deployed) sites in general. If you want to use Usersnap in a local or internal development environment, please read following FAQ entry on usersnap.com.
For more information on the features available within the Usersnap dashboard please see the docs.
The Usersnap dashboard allows you to manage the URLs where the Usersnap button should be displayed. You are also able to choose the way screenshots are delivered to you (Email, Basecamp, JIRA etc.). Another very useful tool is the snippet configurator which gives you the possibility to customize your Usersnap widget in a very comfortable way.
The dashboard can be accessed via the CLI:
$ heroku addons:open usersnap
Opening usersnap for sharp-mountain-4005
… or by visiting the Heroku apps dashboard and selecting the application in question from the Add-ons list.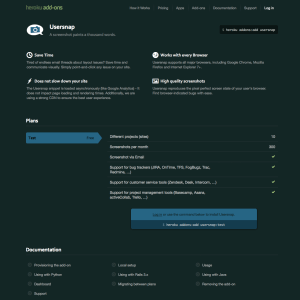 Migrating between plans
Application owners should carefully manage the migration timing to ensure proper application function during the migration process. Use the heroku addons:upgrade command to migrate to a new plan:
$ heroku addons:upgrade usersnap:newplan
-----> Upgrading usersnap:newplan to sharp-mountain-4005... done, v18 ($49/mo)
 Your plan has been updated to: usersnap:newplan
Removing the add-on
Usersnap can also be removed via the CLI. Do keep in mind that this will destroy all associated data and cannot be undone!
$ heroku addons:remove usersnap
-----> Removing usersnap from sharp-mountain-4005... done, v20 (free)
Give it a try – FREE public Beta on Heroku!
Improve your agile deployment processes by adding annotated screenshots and actionable bug reporting to your utility belt. Usersnap for Heroku is currently in public beta – you can try it for free!
For all Usersnap support and runtime issues, please have a look at our Heroku Add On Documentation or contact the Heroku Support channels. Any non-support related issues or product feedback is welcome at contact@usersnap.com.
Happy developing!
This article was brought to you by Usersnap – a visual bug tracking and screenshot tool for every web project.