Christmas is approaching fast, and that means one thing: get ready for next year's conference season!
We had a look at 15 events that are already confirmed for 2017. From UX Design to JavaScript, the conference schedule of 2017 will feature something for everyone.
Read on but make sure you have an (empty) calendar next to you when you do.

After the smashing success (that's right, we said it) of last year's event, Smashing Conference will return to San Francisco in April 2017.
Just like last year, the event will feature a host of workshops ranging from front-end design to CSS architecture. The list of speakers already confirmed includes names like Marcy Sutton, Jason Grigsby, and Sarah Drasner. Just like last year, there will also be a mystery speaker. Can you guess who it is?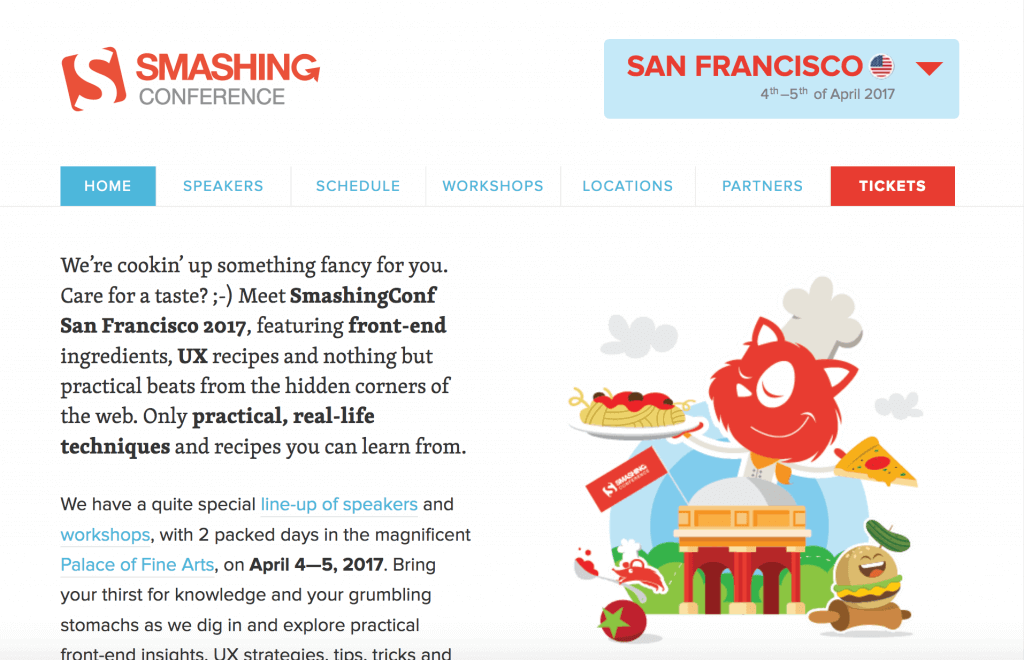 https://smashingconf.com/speakers
Frontend United is an annual conference format for frontend developers and designers. It was created 7 years ago by the Drupal Community and now addresses a much broader audience.
The conference travels from country to country. And this year the Frontend United will take place in May in the beautiful city of Athens, Greece, which by itself should be reason enough to make the trip.
The speaker line-up includes internationally renowned professionals such as Jonathan Snook, Lea Verou, Jeremy Keith, Rachel Andrew and many more. So better get your ticket now.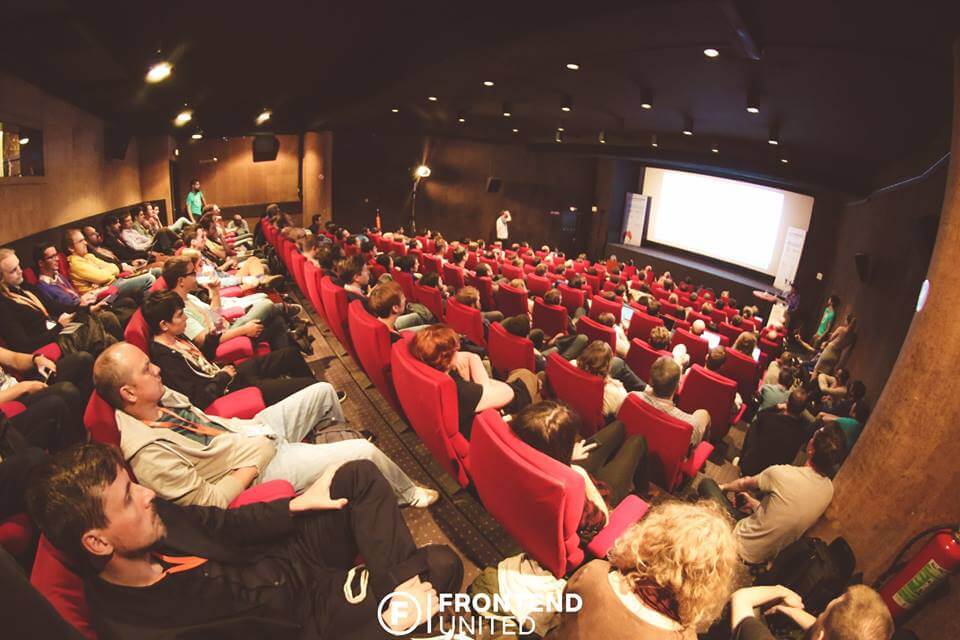 Mirror Conf is a conference designed to empower designers and front-end developers who have a thirst for knowledge and want to broaden their horizons. It aims to create the perfect set to blur the differences between these two worlds and point towards a more collaborative future.
Taking place in Braga, Portugal it's packed with two days of workshops and two days of talks and sessions. If you haven't been in Portugal in October, this is your chance.
PS: The MirrorConf is still looking for papers. Until May 20, you can submit your paper idea here. Fingers crossed.

We're not sure if they predicted the presidential election, but the IA Summit is moving from Atlanta, Georgia to Vancouver north of the border.
The theme in 2017 will be "Designing for Humans", or in other words, "IA meet AI". The summit will focus on the future of information architecture in regards to the evolution of artificial intelligence. Other topics include human-centered design and ethics in technology.
Already in its 18th year, the IA Summit 2017 is guaranteed to kick the conference season off in a very interesting way.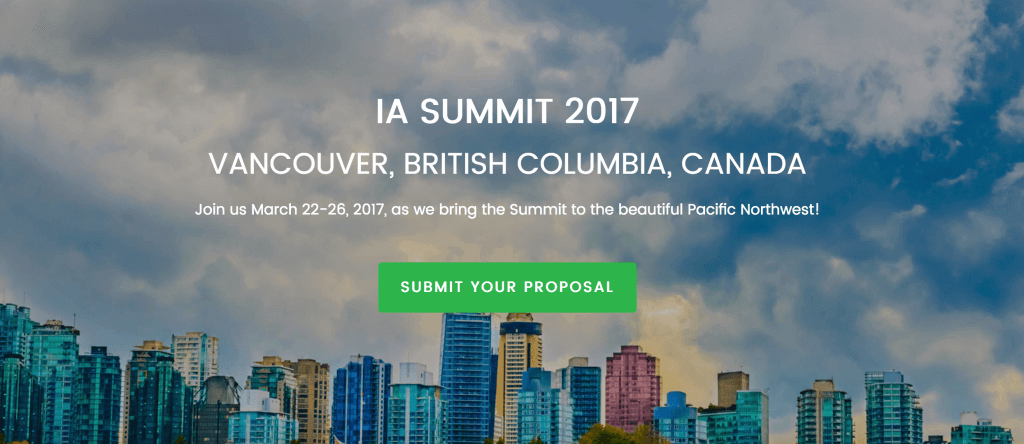 As every year, WebVisions will host a series of events in the US and in Europe in 2017. The exact dates are yet to be confirmed, but the first event will be held in New York City in April, followed by Portland in May, Barcelona, Spain in July and Chicago in September.
The overall theme of the conference series is "The Future of the Web, Revealed" and the event will focus on trends in UX, mobile, and interface design as well as game development.
The list of speakers is yet to be announced but is sure to include a who's who of the different industries.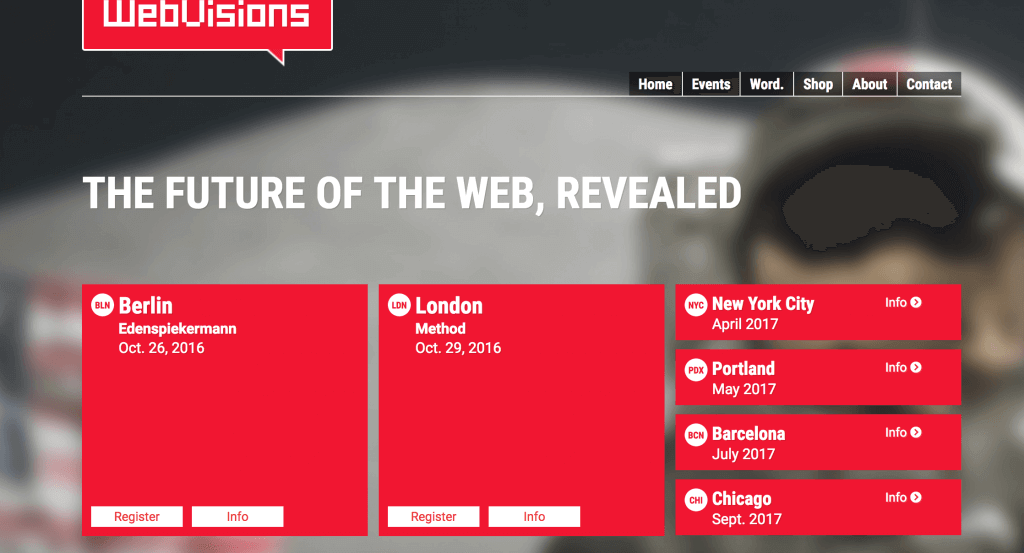 http://www.webvisionsevent.com/
Generate: The conference for web designers will be back in New York City in April 2017.
Like every year, the one-day event will be presented by net magazine and feature presentations about anything from CSS to content strategy. Speakers already confirmed include some of the biggest names in web design, like Mike Monteiro, Oliver Reichenstein and Karen McGrane.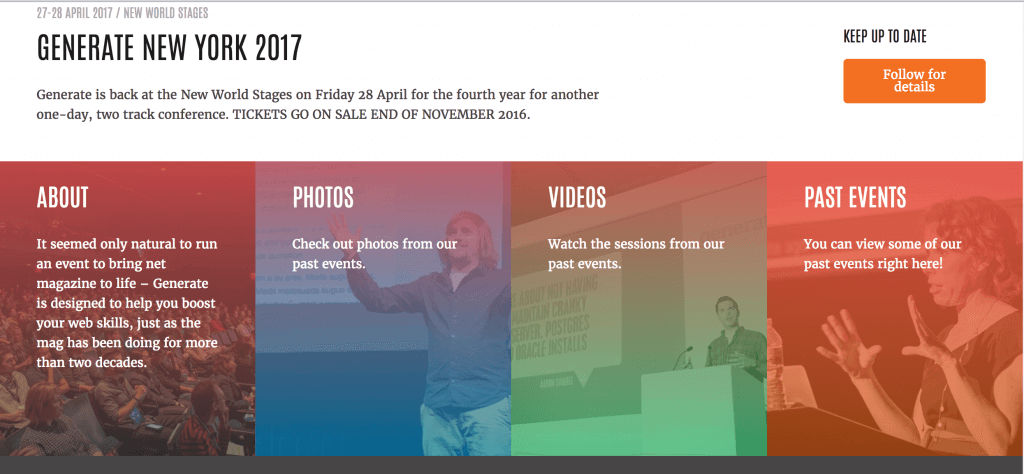 ACE! is all about building better software. And better products. ACE! is one of the largest conferences on agile, scrum and lean startups in Central Europe. Taking place for the 7th time, the organizers decided to split the conference into two main tracks. The first is all about building better software, focusing on scrum, agile techniques, and Kanban. Whereas the second one is all about building better products.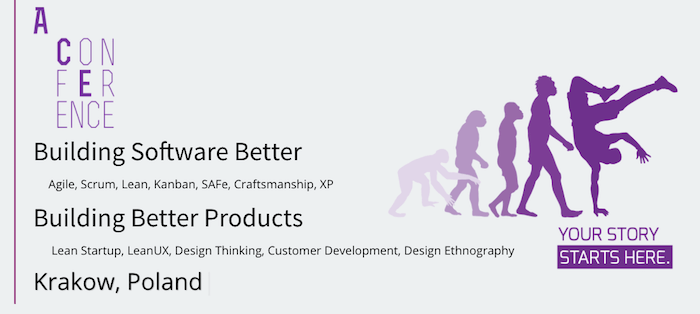 Kicking things off in Europe will be UX Alive, May 3-4, in Istanbul, Turkey.
UX Alive is a conference about user experience and usability and will feature numerous workshops as well as presentations. Topics next year will include user experience design, storytelling, content strategy and many more. The list of speakers will contain young talents from rising star companies as well as industry leaders.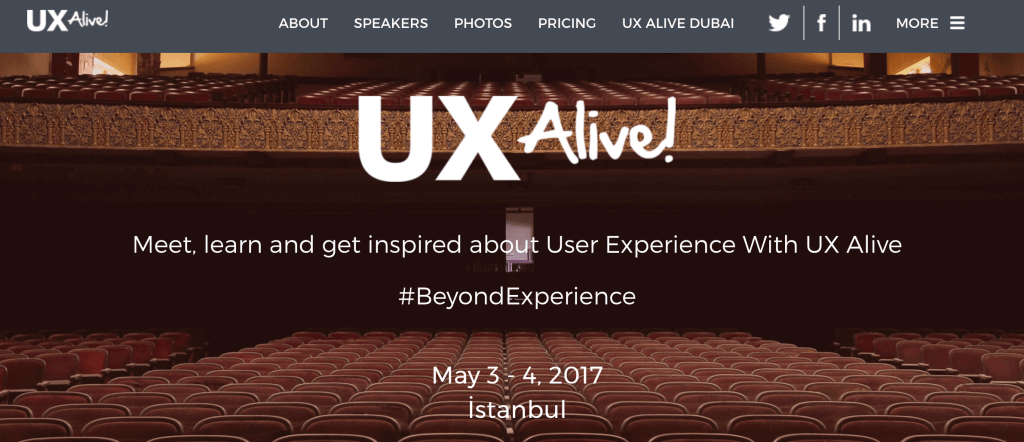 JSConf EU, the conference for the JavaScript community, will be back in Berlin in May 2017.
Get ready for two full days of JavaScript! Featuring over 45 presentations and numerous social events for enthusiasts to network, JSConf will be the event of the year for professionals and enthusiasts of JavaScript alike.
More details are yet to be confirmed, but we'll make sure to keep you updated.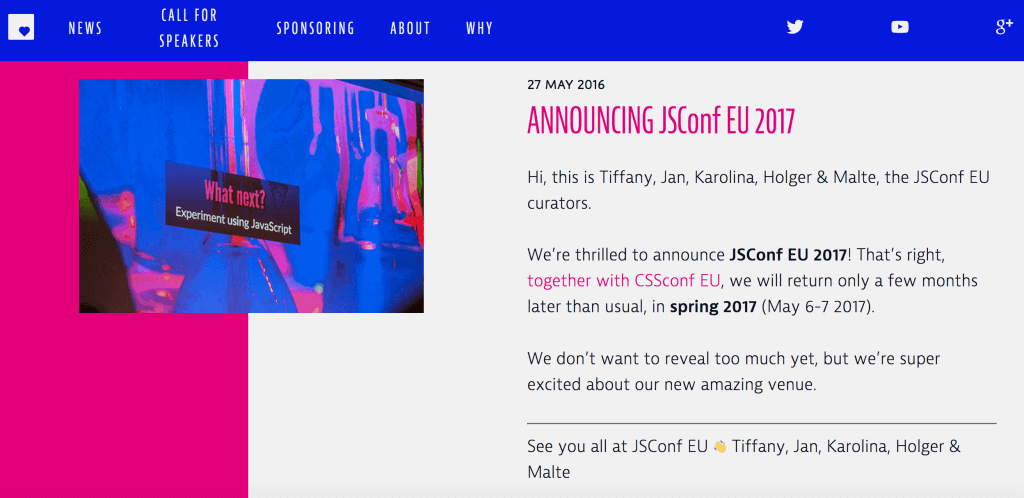 The German expression "über den eigenen Tellerrand hinaussehen" could, in terms of business, best be translated as "to look beyond the boundaries of your own profession".
The 3-day event will focus on thinking outside the box and exploring creative ideas to implement in user design. It is one of the most interesting events on the calendar every year and should not be missed!

Front-Trends is one of the biggest events for front end designers in Europe every year.
Taking place in Warsaw, Poland in May 2017, the conference will feature speakers such as Lin Clark, Jack Franklin, and Vitaly Friedman. If you're in any way interested in front end design, this is one you don't want to miss!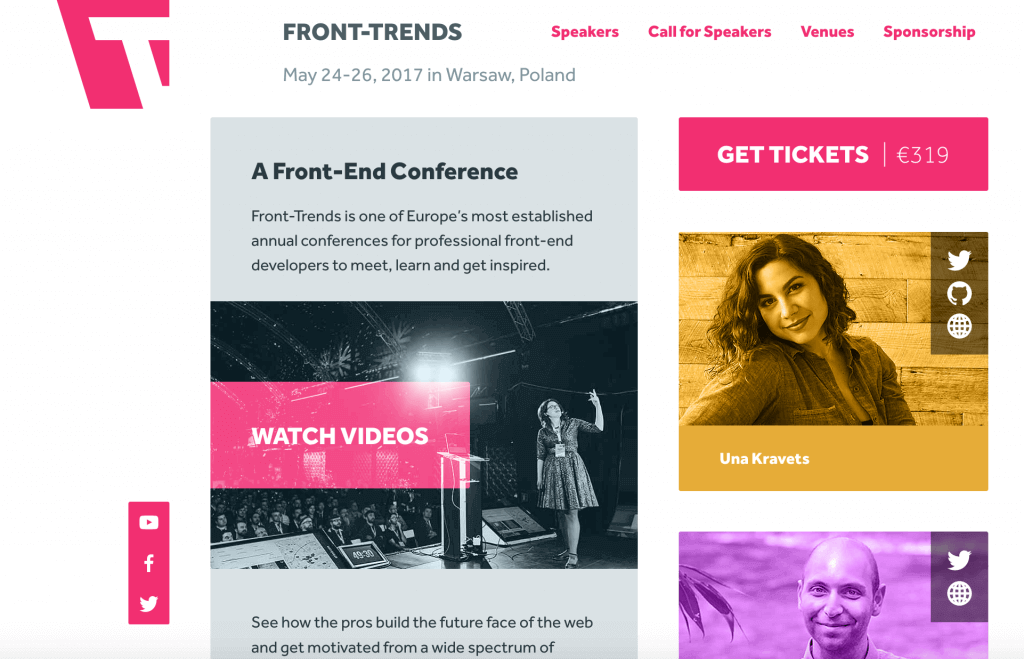 https://2017.front-trends.com/
Every year in May, designers from countries all over the world come together in Berlin to attend one of the most important events of the year:
Typo Talks is a conference for designers and people interested in design. It has come a long way from its inception in 1995 and last year's event featured over 1,500 participants and 60 speakers.
TYPO Berlin 2017 will focus on methodological agility and getting people to leave their comfort zone and discover new ways of thinking about design. Feeling typeractive? Then this is the conference for you!
The international software development conference "GOTO" will be back in Amsterdam in June 2017.
Not much has been confirmed yet, but just like with previous events, it will feature a host of speakers from the different areas of software development. There will also be workshops, which traditionally take place on the day before and the day after the event.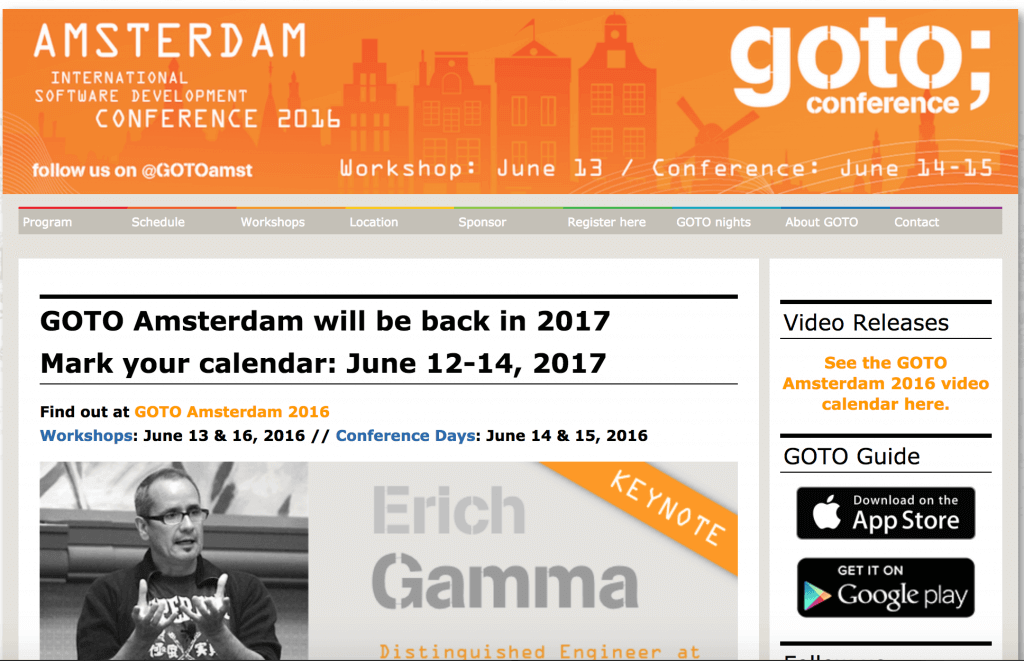 http://gotocon.com/amsterdam-2016/
The German Testing Day is a conference focusing on quality control in software development and its implications for the whole IT industry.
Following last year's success with over 310 participants, the event will be back in the Kap Europa venue in Germany's business capital. If you're interested in how quality control can improve your software development, mark June 19-20 on your calendar!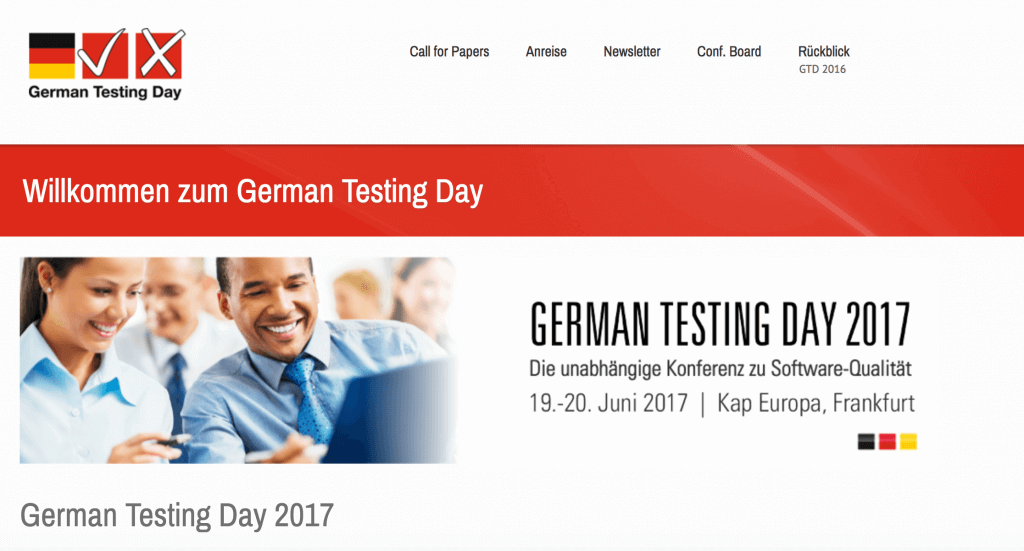 http://www.germantestingday.info/
One of the biggest software development events in Europe, the DWX Developer Week will return to Nuremberg, Germany at the end of June 2017.
Last year's event featured over 250 presentations from over 200 experts of the industry. Besides the date and location, there aren't any details confirmed about DWX 2017 yet. It's a safe bet though that it will be one of the highlights of the conference season for any developer.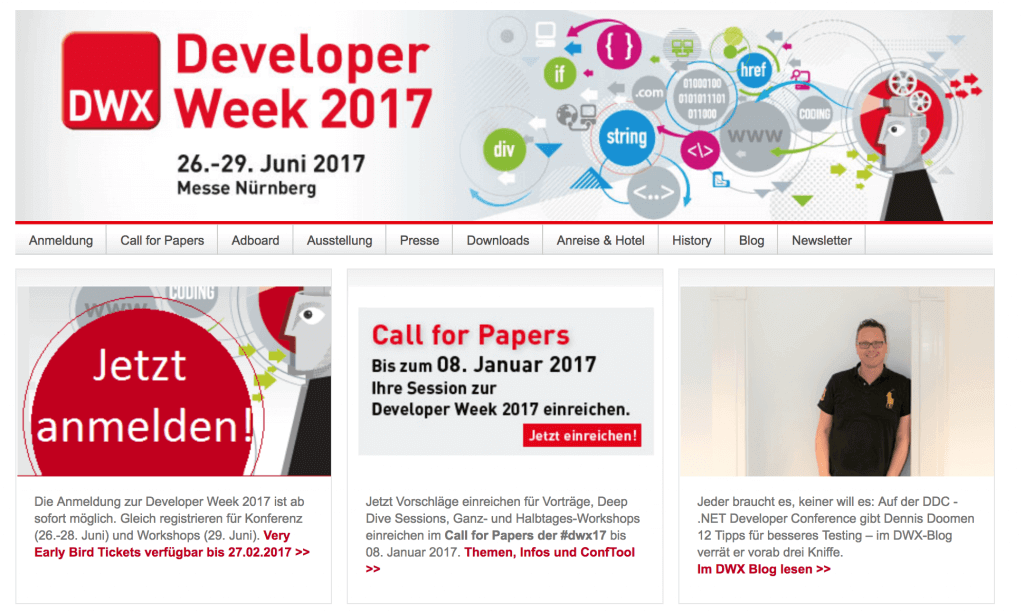 A fun event that focuses on all things agile, Agile on the Beach will be back in Cornwall in the summer of 2017.
Founded in 2011, the event has become a fixture on the calendar for anyone working with agile and lean software development. During the 2-day event, over 50 speakers and 350 participants are expected to turn up and exchange ideas and knowledge.
As if all that wasn't enough, the prospect of Cornwall in the summer should be reason enough to attend. After all, how many other conferences do you know that feature a big party on the beach?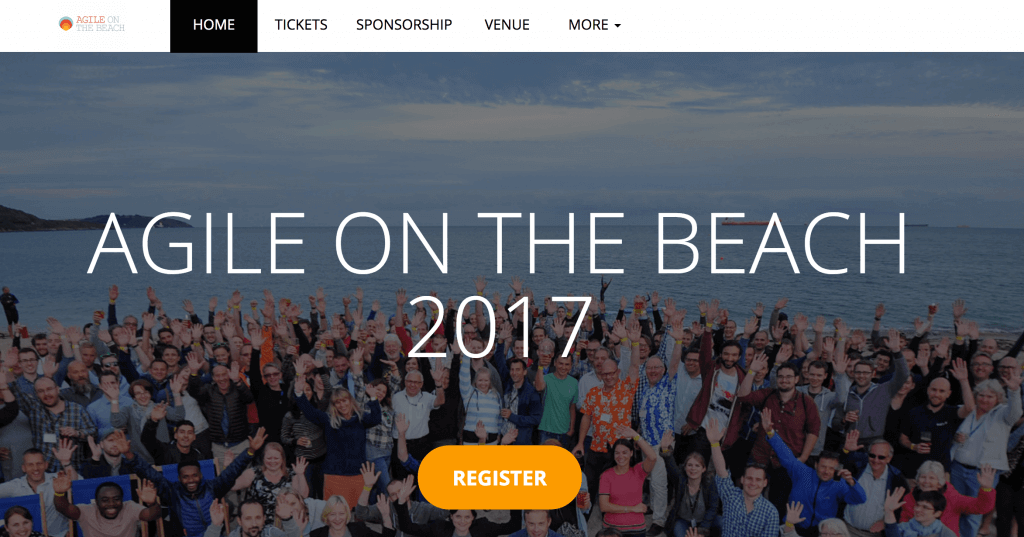 https://www.agileonthebeach.co.uk/
After the busy conference summer, October features a real gem with the World Usability Congress 2017 in beautiful Graz in Austria.
Topics of the 2017 event will include UX management, eCommerce, software development as well as virtual & augmented reality. It is sure to be a highly interesting and thought-provoking event. Besides a host of speakers from top companies, the World Usability Congress will feature multiple workshops and the World Experience Award for the best project of the year.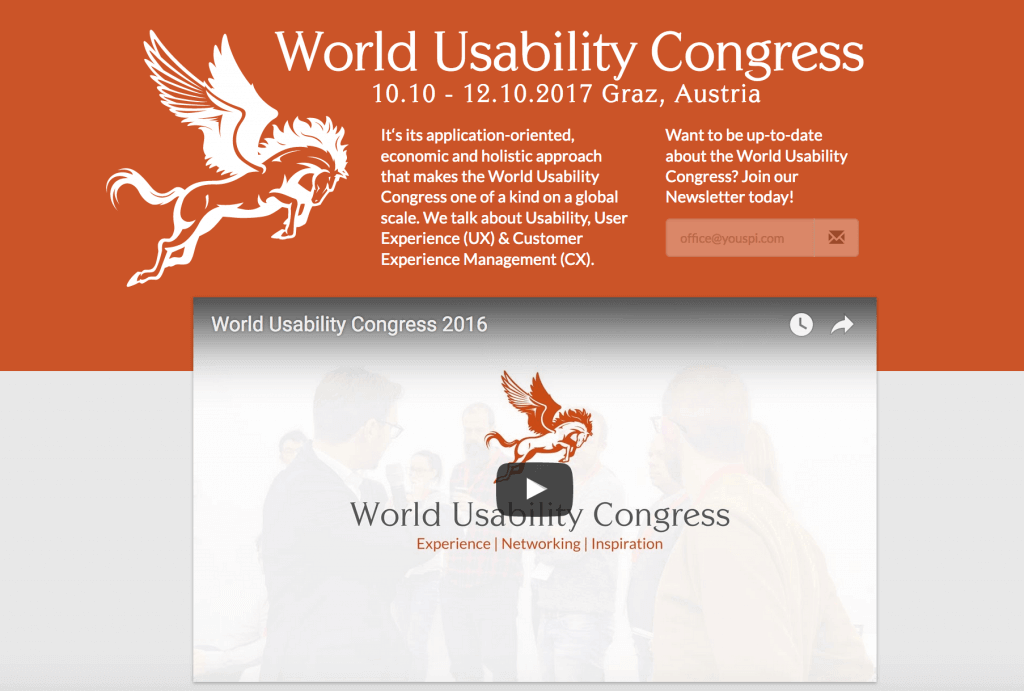 http://www.worldusabilitycongress.com
Wrapping it up.
There are plenty of events still to be confirmed, but 2017 already looks like it will be an incredible year for developers. With events for every area of the industry, next year's schedule should include something for everyone. We'll keep you updated as more events are confirmed and more details about the ones on this list emerge.
Did we forget any conference that is confirmed already? Don't hesitate and let us know in the comments!
PS: Subscribe to our email list and get updates on conference reviews, new design trends, and the latest development news.