With over 150,000 companies using Basecamp, it's definitely one of the most successful project management tools out there. Usersnap lets you create useful bug reports for your web project directly in the browser. What's more is that we seamlessly integrate with Basecamp to track bugs and receive visual feedback for your web project!
We're happy to introduce three new Basecamp features we've worked on the last weeks. A huge 'thank you' to Nicolas Glinoer, one of the founders & the CTO of Walking Men, is in place here, as he hinted these features in one of his emails. Nicolas is a great example of a dream customer – so here's to you!
Better formatting in Basecamp to-do's
First off: we improved formatting of your Basecamp to-do's. Line breaks are now supported, thus delivering feedback in a more structured way. Plus, copy your customer, client or colleague from QA wrote on our sticky notes is notably easier to read.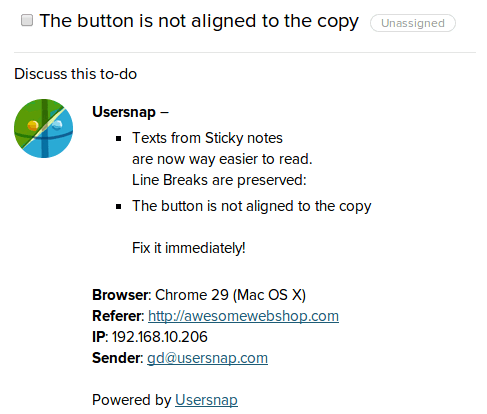 Optimized to-do title generation
Instead of using the default "Usersnap Feedback" in the to-do title, we'll grab the content of your customers' feedback and automagically generate a more descriptive title.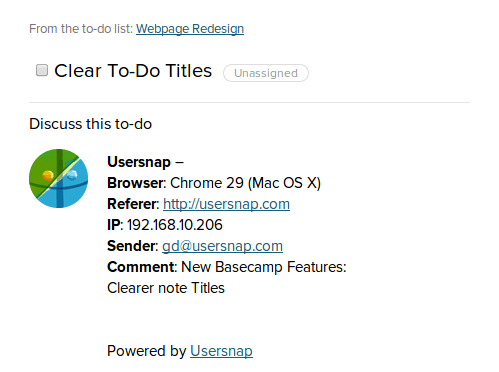 Select existing to-do list in the Usersnap API key configuration
You can now select existing to-do lists (and projects) in the Usersnap API key configuration. Thumbs up for better structuring and collecting feedback in the right place!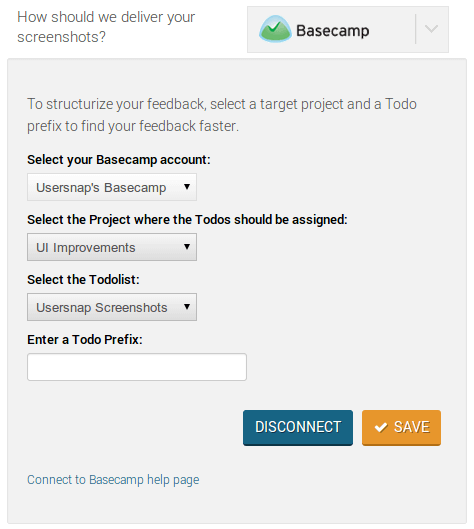 Upcoming Features
We are working hard on improving your Basecamp experience even more! With the next iteration it will be possible to reply to your user's remarks directly in your Basecamp to-do. Switching to email will be a thing of the past. 37signals' API support helped us craft some really creative solutions to make this possible!
Find a sneak preview of this awesome upcoming feature below:

Let us know if you have any ideas to improve our Basecamp integration, in the comments!
Optimize your Basecamp workflow or get started with Basecamp and Usersnap today and let us know what you think. And: save 30% in September! Basecamp customers can save 30% for a limited time with the following discount code: BC4EVER.