Here at Usersnap we have a lot of customers who love our 3rd party integrations of bug trackers, project management and customer service tools. We also have an open ear for useful hints how to make our integrations even better. In a previous update we already improved the Basecamp integration, today we deployed additional improvements for Basecamp, which you can use from now on.
The first hint to improve the Basecamp integration came from Nicolas Glinoer from walkingmen.com. The idea was to use the email address given in the Send Report form when taking a Usersnap to map the reporter to a user in Basecamp.
The big advantage is that no further action must be taken in Basecamp to get change notifications regarding this bug.
A further improvement for Basecamp is the ability to set a default assignee to a todo. Jason Lemieux finds this useful to guarantee that those todos get processed. We also enabled you to set a due date to generated todos. Target dates can be chosen from days, weeks or months from todo creation.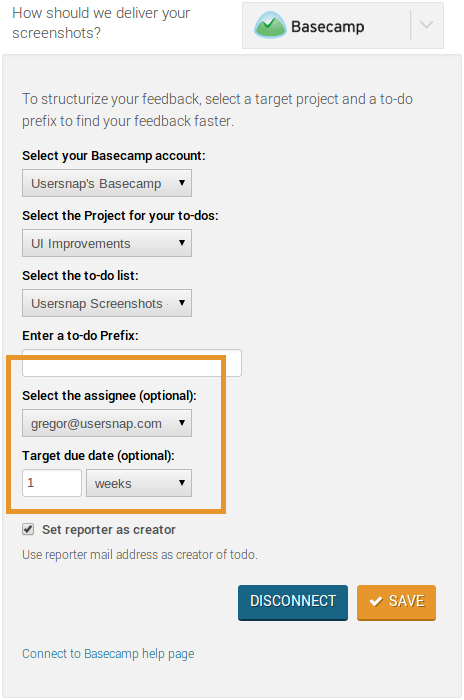 We Listen
As you can see, your feedback is taken seriously and implemented if there's a good potential to be useful for other customers. Don't hesitate to send us additional feedback to existing or non-existing functions regarding our integrations.
Follow us
We produce great content often. Follow us on twitter and sign-up using the form on the right to get valuable and hand-picked news on everything web that makes you а better professional. No blah blah's guaranteed.
Follow @usersnap

This article was brought to you by Usersnap – a visual bug tracking and screenshot tool for every web project.