The Usersnap team was working hard on some neat features for our 3rd party integrations in the last weeks. Besides our new Bitbucket integration we're excited to offer you a pre-selection possibility for your connected tool. Learn more how it works!
Hello Bitbucket integration
We are really happy to announce our new integration for Bitbucket. If you are using Bitbucket for development, you can connect Usersnap directly with your Bitbucket account. Saying this, you can get the bug reports/screenshots from Usersnap directly delivered to your Bitbucket issues.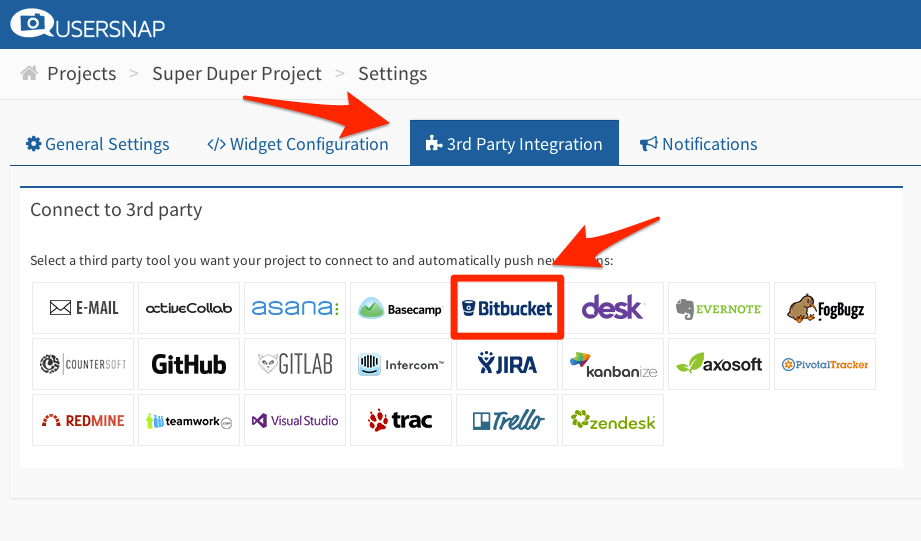 If you're logged in your Usersnap dashboard you can find the Bitbucket integration in the settings section. Just switch to the 3rd party integration tab where you can find the Bitbucket integration.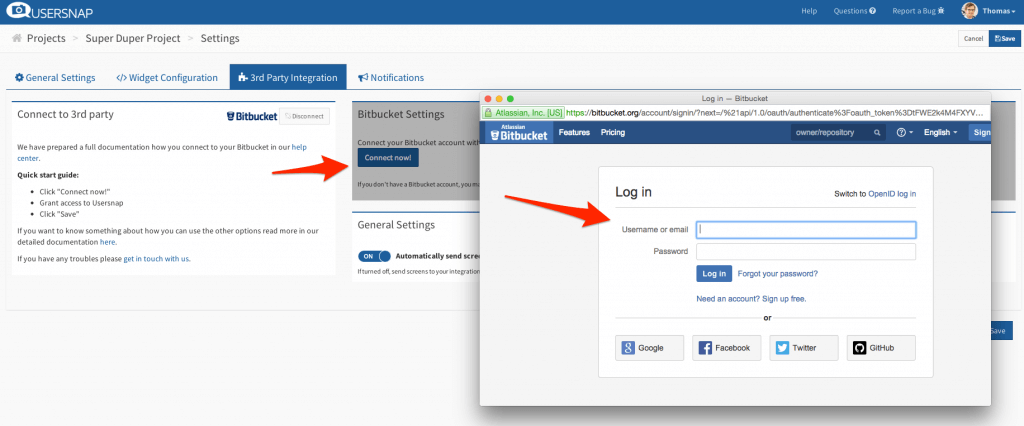 After logging in with your Bitbucket account your Usersnap screenshots are connected to your Bitbucket projects. All your bug reports and screenshots from Usersnap are now ready to be delivered to your Bitbucket issues. It's simple as that.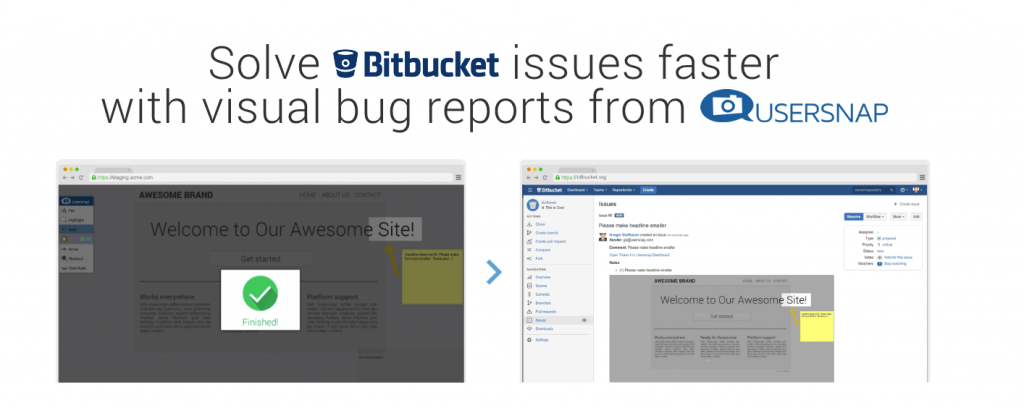 If you need more information on the Bitbucket integration, check out our help center or get in touch with us.
New screen pre-selection for 3rd party integrations
With our new Bitbucket integration, we provide support for 20+ different project management and bug tracking tools which can easily be connected with your Usersnap account. Our team worked hard on improving the usability for 3rd party integrations. We're are happy to announce a new feature today which a lot of you have requested.
If you're using Usersnap together with an other 3rd party tool, you can now manually pre-select your screens before sending them to your connected tool (such as Asana, Basecamp, etc.). This means that you can decide if you wish to send your screenshots automatically or manually to your connected tool.
How does it work?
If you have connected a 3rd party with Usersnap, you can find the settings in the 3rd party integration tab (see screenshot below):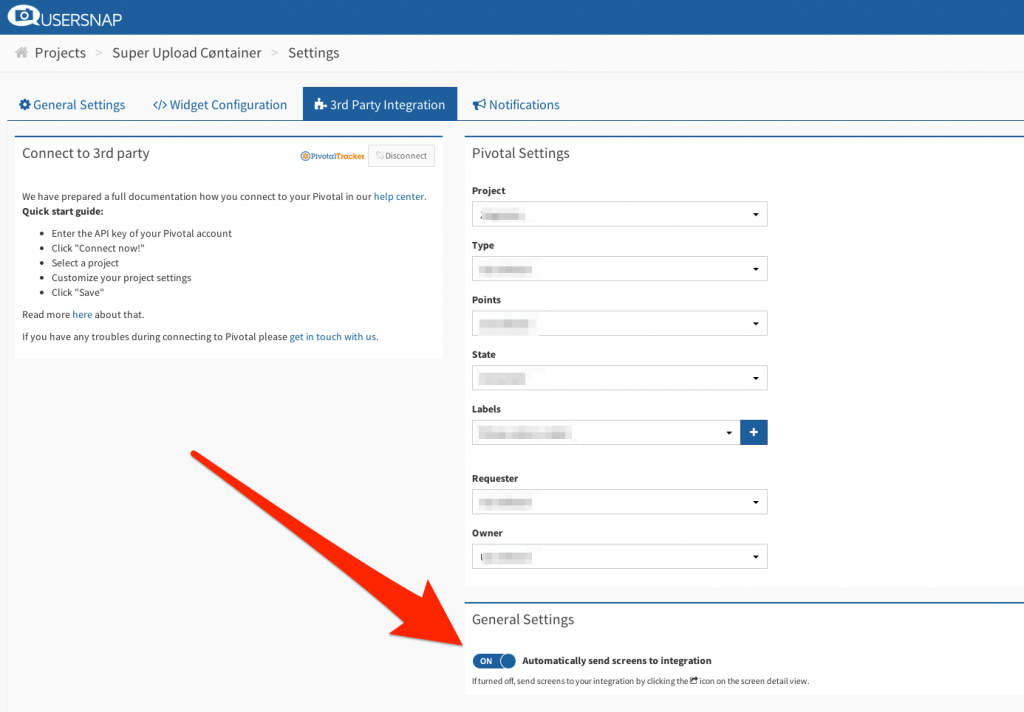 If you connect a new tool with Usersnap all created screenshots from Usersnap are automatically sent to your integrated tool. By turning off the setting, you are now able to decide manually which screen you want to send to your integrated tool.


After creating a new screenshot with the Usersnap widget you can decide if you want to forward the screen to your connected 3rd party tool (see screenshot below).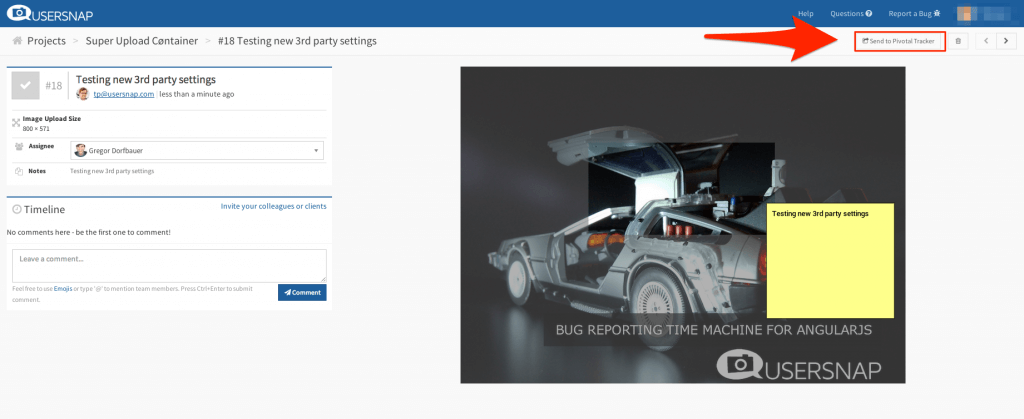 What's the benefit of pre-selecting your screens?
From a developer's view, the manual pre-selection helps you to increase your work efficiency. Bugs, which get reported from clients, can now be evaluated by a product or project manager before sending them to the developers in charge for fixing the reported bugs. Through this process improvements you can focus on high priority bugs.
This feature is also very helpful if you or your colleagues created duplicate screenshots and you want to avoid sending all created screens to your project management tool. Further on, it enables you to pre-select the screens you want to share inside your connected tool, since some information may be irrelevant in your project management software.
There's a lot more (to come)…
We are also working on some minor features which we'd like to share with you. For example, Usersnap added Icelandic as a supported language, since we're happy to have our first Icelandic customers on board with us! Velkomnir! Maybe you also noticed that we teamed up Paymill to offer our customers American Express as an additional payment method.
And of course, there is a lot more to come. Stay tuned for upcoming updates!
If you missed something, just get in touch with us our leave a comment.
We'd love to hear what you think about our updates!
This article was brought to you by Usersnap – a visual bug tracking and screenshot tool for every web project.